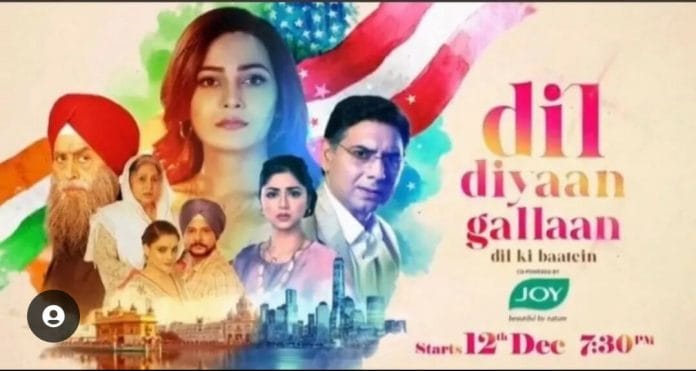 Dil Diyaan Gallaan 9th January 2023 Written Update on TellyExpress.com
The episode starts with Randeep getting upset thinking Kushwant created scene in house and Dilpreet will be angry. He shouldn't have come here. He blames Maan for every mishap as because of him his brother suffers all the time. Randeep recalls how he wanted to study in foreign University and brought the form. He says he wants to finish his further studies there. But Dilpreet tore the form saying Maan left forever and didn't return so he won't let Randeep repeat the same mistake. Noone will go to abroad. Randeep adds he left home due to that reason to create a name for himself. Sanjot tried stopping him saying he should not leave his parents alone. His father is a heart patient too. Randeep says but he has to go outside to do something on his own. Dilpreet says he doesn't care if Randeep stays or not. Randeep says he is not leaving India but he atleast needs his blessings before leaving. Dilpreet doesn't bless him and Randeep leaves.
Flashback ends and Randeep says he came here to give good news to Dilpreet but Maan's act ruined everything, he lost all confidence after his brother left. Now he feels left out and receiving taunts and backlashes from everyone. Nimrit says but what if Maan planned something to get Sanjot's jewels. That's why he sent money to Dilpreet. She asks Randeep to talk to his father for the NOC. Randeep says but the situation is not right. Nimrit says Maan always troubles them. Sanjot overhears that. Veer seeks help from Saini but the latter cuts the call. Amrita comes and says she will help Veer to prove her father's innocence. Kushwant did wrong to him, Veer gets happy knowing that and says he will also prove Dilpreet innocent. Amrita says sometimes we should not run away from the truth but face it. Veer gets teary and Amrita gives him kerchief to wipe his tears. She says she has been seeing same tears in Maan's eyes so she can understand Veer's pain.
There Nimrit tells Sanjot she didn't mean to taunt Maan but Sanjot ignores her apology. Ria scolds them for talking nonsense always and for angering Sanjot. Veer gives his hand to Amrita but she leaves. He stares at her. Nimrit talks to Sanjot and asks if she is angry with her still. Sanjot says Nimrit should learn to handle her relationships. Randeep comes and says Sanjot is not looking happy but she will give all the love to her Maan. Sanjot hugs him and gets emotional. He also hugs her tightly and tells her to pour her heart out. Sanjot gives group hug to Nimrit, Ria and Randeep. Nimrit informs Sanjot that they soon will buy a house in Delhi. Sanjot gets overjoyed knowing that and she goes to make sweets for them. Nimrit says now she can remember where she saw Amrita.
Veer calls Ria and they go to check. Ria gets irked seeing Veer with Amrita. Nimrit recognises her and asks Ria what she is doing here. Amrita gets happy to see Randeep there. Veer tells Amrita that they are her uncle and aunt which stuns the latter.
Precap- Harneet tells Dilpreet to talk to Maan as Kushwant put a false allegation on him. Dilpreet says he won't talk to Maan after all these years. Randeep calls Maan and the latter picks it up. He feels if his family called him.
Click to read