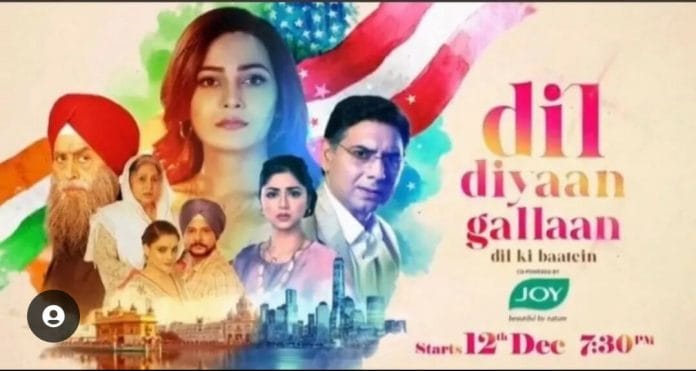 Dil Diyaan Gallaan 12th January 2023 Written Update on TellyExpress.com
The episode starts with Veer dialing the number of Maan. Nimrit tells Randeep about it and the latter gets shocked knowing Dilpreet got ready to talk to Maan. Veer made it possible. Nimrit says if Dilpreet contacts Maan then their dreams will never get fulfilled. Randeep shuts her up saying Dilpreet will listen what she said. Veer tells Dilpreet that the network is poor, they can dial the number outside. They go out and there Amrita asks Adi if the work is done. She feels grateful towards him for doing the work for her. Amrita hears Veer is searching for network.
Nimrit tells Randeep to talk to Dilpreet about NOC at any cost else she will talk to him. Randeep says that's not easy to which Nimrit says they told about their need to Dilpreet many times but he didn't pay attention now he is calling Maan for his own need. Nimrit talks loudly and Dilpreet stands near their room. Ria and Randeep tell her to keep her volume low. There Amrita thinks why Veer is trying to call Maan, there will be huge trouble if it happens. Nimrit talks ill about Maan and says Dilpreet doesn't care about Randeep at all who always cared for him. Ria tells her to control her emotions. Dilpreet overhears their talk.
Veer finally tells Dilpreet that the phone is ringing and Maan is checking some papers. Dilpreet's hand trembles while holding the phone. Sanjot hopes for the best and Maan says hello from the other side. Dilpreet gets emotional hearing his voice but can't answer. Maan checks the country code and wonders if this number is from his home. He keeps on saying hello and Dilpreet recalls Kushwant's and Nimrit's taunts that Maan left his parents and didn't come back. Dilpreet disconnects the call in disgust and Maan thinks why he felt like his parents called him after years. He thinks maybe its his misunderstanding. Dilpreet says Maan is expecting him to talk first but he won't. He shows ego saying he will never talk to Maan. Sanjot gets disheartened and Dilpreet says she should not have high hopes about contacting Maan. He says he recalled his cheating and then changed his mind. Dilpreet goes to room. Sanjot says she gets happy for small reasons and Maan's voice filled her heart with pleasure which she heard after 25 years. She thinks when will the time come when she will finally talk to him.
Ria wipes her tears and hugs her. Amrita goes to Veer and the latter gets some papers which states the land will be given to Kushwant in three days. Nimrit says it's good that Dilpreet didn't talk to Maan. Ria says she feels bad for Dilpreet the way he got hurt. Veer thinks why Kushwant sent the papers. Amrita questions Veer why he wanted Dilpreet to talk to Maan? She can't stand her father's insult. He raised Sanjot's hope too. Veer calms her down saying he just made the first move to end the differences. Amrita says Dilpreet doesn't want to sort things with Maan. Veer says even Maan didn't call his father. They both are at fault. Amrita says Veer can't be her friend as he insulted her father. Veer holds her hand and asks if she wants to prove her father innocent. She says but she won't take his help. Veer shows Kushwant's papers to Amrita saying he even sent sweets for them now what would they do.
Precap- Dilpreet doubts Maan and Amrita says maybe he is being framed. Dilpreet says he doesn't believe that. She says he never understood him.
Click to read