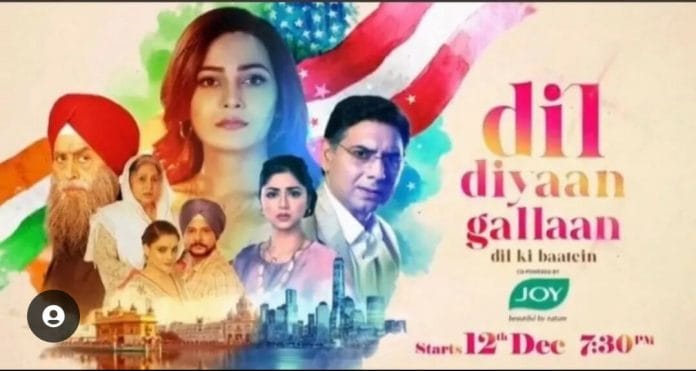 Dil Diyaan Gallaan 11th January 2023 Written Update on TellyExpress.com
The episode starts with Amrita telling Ria that she can't express how much they struggled in New York. They had noone. In flashback Amrita tells the doctor that she will sign the papers and fulfil the formalities for Maan and Astha's treatment. Flashback ends. Amrita tells Ria that when Maan got back his senses first name he took was Dilpreet. She says but Dilpreet cursed her father. Amrita says Ria atleast has her family but Dilpreet didn't accept them as his family. Ria asks Amrita if her mother is American. Amrita says Astha is Indian only. Ria gets surprised knowing that. She asks Amrita why she took her to the room. Amrita requests her not to reveal her identity to anyone in the house. She is here to sort the issues about the land matter and after arranging the signature for Randeep she will leave the house.
Randeep comes to them and says he will drink cold drink too with them. Randeep asks Amrita why she ran away. Ria says she just got scared seeing Dilpreet's anger. Ria spends happy time with Randeep and Amrita misses Maan seeing them. Amrita gets Maan's call and receives it. Ria asks about Dilpreet's mood to Randeep. There Veer tries to convince Dilpreet to talk to Maan. Dilpreet suspects someone is hiding behind the bushes. Lucky comes out and says he heard Dilpreet got dollars so he suggests him to do some illegal work using the money. Dilpreet slaps him and Veer acts like scolding Lucky. Lucky says everyone is talking about Dilpreet's dollars and calling him fraud. Veer says Dilpreet should prove them wrong. Dilpreet says he can understand his trick, Ria tries to make him realise that he should shut everyone up by proving his innocence. She cant see his humiliation.
Amrita thanks Maan for giving her all kind of comfort and happiness all the time. They worked hard for her, Maan asks her if anything is wrong. He wants to pick her up from the airport. He asks when she will catch the flight tomorrow to return back? Amrita says she has some work left so she won't return now. Maan gets confused. Dilpreet finally gets convinced by Ria and says he will question the cheater Maan why he insulted him by sending money. Veer thanks Ria for convincing Dilpreet. Ria says it's her duty, he keeps hand on her cheek and she feels shy. Maan calls Adi and asks for Amrita's hotel room details. He says he feels Amrita is not fine. Adi gets nervous hearing that and thinks how to face him now. Amrita gives a task to Adi saying he will put some papers in between Maan's official papers. She needs his sign on them. Adi says he is scared to do that as Maan will not spare him. Amrita says she wants to fulfil her promise to her little sister. Adi decides to do her work finally. Amrita says she will not break her promise made to Ria.
Nimrit asks Sanjot when will Amrita leave the house. Sanjot gets busy in household work and there Veer gives Maan's number to Dilpreet and tells him to call Maan. Sanjot gets emotional hearing that Dilpreet will call Maan. Dilpreet tells Veer to dial the number saying he will clear everything today. Sanjot folds her hand in front of Babaji's photo. She prays that hope this conversation between Dilpreet and Maan will solve the issues after all these years. Dilpreet recalls his curses for Maan. The phone rings from the other side.
Precap- Nimrit tells Randeep that Dilpreet is calling Maan and Veer says the phone is ringing. Maan feels if he got a call from his family. Dilpreet holds the phone.
Click to read