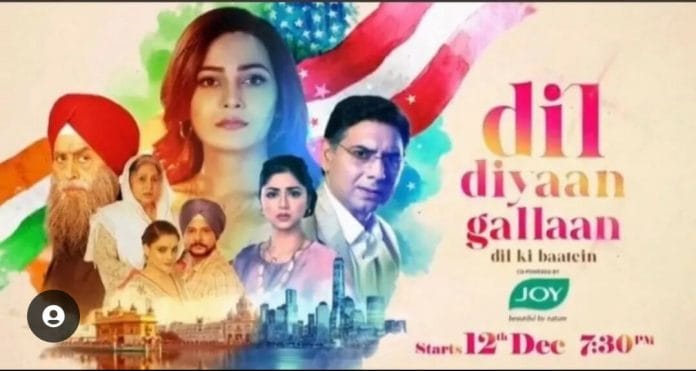 Dil Diyaan Gallaan 13th January 2023 Written Update on TellyExpress.com
The episode starts with Amrita saying she just hates Kushwant. Veer says finally her attention shifted towards something else. He says first they have to find out who transferred the money into Dilpreet's account. Amrita says her father didn't do that for sure. Amrita pours the tea on Veer's cup but it falls on his shirt. She asks him to take off the shirt. He teases her saying what will people say? He then makes her sit and they start having tea. She says she got an idea to expose Kushwant. Before she could share but Sanjot calls them to have food. There Dilpreet thanks Nimrit for stopping him to talk to Maan. He asks about Randeep's work and the latter says it's going well and he earned profit too.
Dilpreet says his dream will never get fulfilled because of Maan's act. He will lose the land in three days. Randeep says again he is talking about Maan. Veer says he will not let the land go away from Dilpreet's hands. Dilpreet says Randeep should have done something instead of Veer. There Maan too betrayed him and sent money to him for no reason. Amrita says maybe this is not the truth and he is being framed. Dilpreet says Maan is not that person whom they think he was. Amrita says he never understood Maan maybe. Dilpreet and Sanjot praise Amrita's straight forward nature. Nimrit tells Amrita to stay away from their family matter as she doesn't have any idea. Ria thinks Amrita is trying to become Dilpreet's favourite and she feels jealous. She adds a chilli with Amrita's food and the latter starts coughing after eating that.
Dilpreet makes her drink water and Amrita feels thankful. She leaves the table and Ria asks her not to insult Dilpreet to prove her father right. Amrita says she won't stand if someone insults her father. Ria asks about the NOC to her and Amrita replies she is in hurry more than her. There Maan gets busy talking to someone and Adi adds the NOC document in between his important papers. Amrita asks him about the update and Adi says he did her work and what the papers are about. Amrita says she can't tell him right now. She promised two different things to two people. She can't come back without fulfilling them. She needs Maan's sign, she says she feels bad for lying to her father but she has no choice. Maan calls Adi and says he wants to talk to him about something important.
Amrita leaves for some work and bumps into Nimrit. Her Salwar gets dirty and Amrita apologises to her. Randeep teases Nimrit and the latter says she is not in mood to romance. She says Veer is outsider and he tries to impress Dilpreet but Randeep is not even talking to him about the NOC. She pushes him to talk about it as soon as possible. Dilpreet brings amla from market to make Sanjot happy. He says he hurt her a lot in last few days. She couldn't talk to her son even after getting hopes. Sanjot says she is not angry with him, Dilpreet asks her if Maan can really transfer the dollars to his account. Sanjot says she doesn't think so as she knows her son well. Maan always reveals what is in his mind but Randeep keeps secrets. Randeep overhears that and he enters their room.
He shows his disappointment towards them for thinking wrong about him. He says he is not a cheater or secret keeper but everyone thinks he is bad. Sanjot and Dilpreet try to calm him down but he remains upset. He says Dilpreet should give him chance to prove he is their true son. He says he will find out the culprit in seconds.
Precap- Maan says he and Astha will surprise Amrita by visiting Indonesia. Adi says they cant go there. Astha finds out Amrita is in India.
Click to read