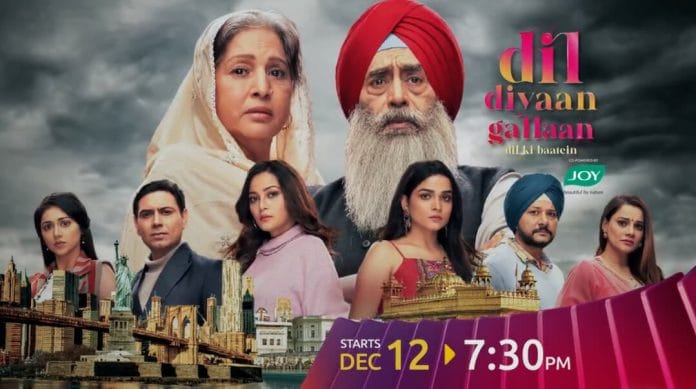 Dil Diyaan Gallaan 7th January 2023 Written Update on TellyExpress.com
The episode starts with Harneet saying but they can't stop the youngsters from going there. Dilpreet says they don't care about their parents and they permanently start living in abroad. Ria says but some kids return back to their home or else they call their parents in abroad. Harneet gets irked and leaves. Kushwant and his men discuss about the land which Government owns now. Amrita discusses about her thesis work to Dungar Pal in technical language. Lucky gets confused and then he gets lost seeing Amrita's Beauty. He tells riddles and Veer somehow controls Lucky's action and Amrita asks him what does the professor mean? Veer says it's Dungar Pal's style, he talks about the thesis problem to Amrita on behalf of Dungar Pal. Lucky says it's rejected for that reason. Amrita says it means she has to stay in India for longer period of time.
Veer thinks he will make sure he solves all the issues between Mandeep and Dilpreet. Ria talks to Nimrit through video call. Ria says she will talk about the NOC to Dilpreet later. Nimrit tells her that one great lady helped Randeep and Ria's fees problem is solved. Ria gets happy to know that and she says now they can come here easily. She mentions America by mistake and Nimrit asks who came from America? Ria hides the matter and later she gives the phone to Sanjot to talk to Nimrit. Nimrit asks her to sew two salwar for her and for her friend. Sanjot teases Nimrit and later she agrees to sew two salwar for Nimrit and her friend. Dilpreet comes to talk to Nimrit. Veer comes back home with Amrita and Ria thinks why she came here again. Amrita hesitates to enter and Veer says she can freely stay here, noone will mind.
Veer talks to Nimrit and Ria takes away the phone from him. Nimrit asks about Amrita to Ria. Ria says she is just Veer's friend who came from Amritsar for few days. Nimrit says she wants to know more about Amrita. Sanjot tells Amrita to get ready to attend the function. Ria will give her clothes. Veer also goes to get ready. Nimrit says Amrita looks quite modern, doesn't seem like she is from Amritsar. Ria says everyone is focusing on Amrita only. Veer gets ready and he locks her room after seeing Ria. Ria asks him what he was doing with Amrita? Veer leaves without answering. Ria gets suspicious.
Dilpreet feels uneasy and Veer asks him to take rest if he is not okay. Dilpreet says he is fine, Cop there tells the constable to keep eyes on Amrita. Dilpreet meets Harneet and says Amrita is also joining them. Dilpreet stops the guy from touching his feet saying when he will be back from Canada he will allow him to touch his feet. There Kushwant talks to the Government staff about the land ownership. He says why the Government is showing interest in that land suddenly. Veer warns Kushwant to stay away from the matter. Kushwant says he will find out the truth very soon.
Dilpreet stops their fight and talks to the Government staff. He says if Dilpreet has a big proposal and he has the support of reputed doctors then he might get permission to build the hospital. Veer gets spellbound seeing Amrita all decked up. He keeps staring at her and Ria also arrives. Dilpreet notices his expressions and he assumes Veer is looking at Ria maybe. Dilpreet says if Ria and Veer get married then Ria will live in Hosiyarpur forever.
Episode ends
The episode starts with Dilpreet warning the villagers to leave immediately and they leave. Kushwant taunts Dilpreet saying his son Maan will never come back home. He pushes away the scarecrow of Maan in anger. He adds Dilpreet shouldn't have become a father of such son who left them alone in old age. He laughs at their situation and leaves. Sanjot picks up the scarecrow and gets emotional. Dilpreet recalls Kushwant's words about Maan and rushes towards terrace. Everyone follows him and Sanjot asks him what does he want to do? Dilpreet says he made a mistake by building the huge water tank. He regrets for that and he is about to hit the water tank but Amrita imagines Maan is stopping him. He scolds Maan for sending money in his account. He pushes away Maan and Amrita saves her father from falling. She faces Dilpreet saying why does the latter always misunderstands her father. He didn't listen to Maan years ago before throwing him out. Dilpreet asks Amrita if she is Maan's daughter. Amrita says yes and Dilpreet asks her to get out of his house with her father and they should never come back.
Her dream ends when Dilpreet keeps hitting the water tank. Sanjot and Veer stop him saying why is he taking out his anger on the tank. Dilpreet scolds Sanjot for still having hopes for Maan. He curses Dilpreet for not coming back and says he lost all hope about his worthless son and Kushwant was right about him. Dilpreet breaks the tank and vents out his frustration. Amrita can't take that anymore and she goes to her room. She leaves the house with her luggage and recalls Maan's words that Dilpreet didn't give him chance to explain.
Click to read