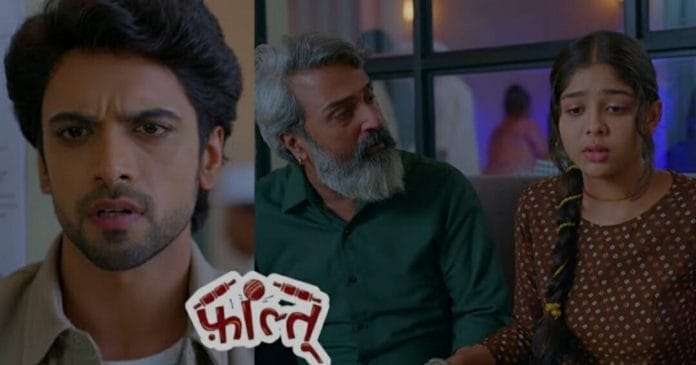 Faltu Spoilers, Upcoming Story, Latest Gossip , Future Story, Latest News and Upcoming Twist on tellyexpress.com
Star Plus popular serial "Faltu" produced under Boyhood Productions, is an unique drama. Niharika Chouksey and Aakash Ahuja are the main cast of the show. The enthralling and fresh story of the serial is captivating the audiences. Previously, Ayaan asked his agent to give him information regarding Faltu. He found about the fire accident and got worried for her.
Meanwhile, Faltu got saved by the neighbors. Charan and Faltu told the neighbors about her eyesight problem while they proclaimed to help them. Whereas, Siddharth spied on Faltu and determined to use her secret against Tanisha and Ayaan.
In the current track, Siddharth and Sumitra tries to instigate Tanisha against Ayaan but the latter shows her trust upon her husband. At that time Kanika notify them about Guruji's new verdict and assures that Tanisha can start her married life with Ayaan. Siddharth gets hurt learning about it and becomes furious.
Here, Sumitra gets shocked seeing the behavior of Siddharth and proclaims that he truly loves Tanisha. He declares that he will get her by hook or by crook. He expresses his love for Tanisha and then smirks thinking that Ayaan won't get close to her as he loves Faltu.
Tanisha arranges her room for the first night and becomes excited to get close to Ayaan. Whereas, he keeps thinking about Faltu and recalls all the incidents. Siddharth also finds about Faltu loosing her eyesight due to lack of money and proclaims that what Ayaan will do to save her eyes?
Ahead, Siddharth tells Tanisha about Faltu's problem while she gets worried about her and says that they have to notify Ayaan about it. But, Siddharth instigates her against him and proclaims that what if Ayaan already knew about the matter but is hiding it from Tanisha.
Dr. Ajit comes to Mittals house to meet his father's boss. The latter praises about Ayaan in front of Ajit and waits to meet him. Ayaan was about to go there but Tanisha stops him and declares that he won't meet any guests. She takes him along with herself inside their room.
Later, Faltu's neighbors tells her about the free eye camp and assures that she can get her treatment from there. Meanwhile, she takes Vermilion from the old lady and applies it on her hairline, hiding it from the other but Pratap gets suspicious about her behavior.
Now in the upcoming episode, Ayaan will confront Faltu and holds her hands. He will start twirling her while she tries to stop him. He will put his finger on her lips and ask not to say anything. She will tell that they have to stay away from one another, to which he will question why?
She will reply that because she started loving him immensely. She will smile while confessing her feelings while he also gets elated. He will ask her not to think about others.
Will Faltu confess her feelings to Ayaan?
Will Tanisha finds about Ayaan's feelings?
It would be interesting to see what happens next on the show.
Stay tuned with us for more news, Spoilers and written updates of Faltu.