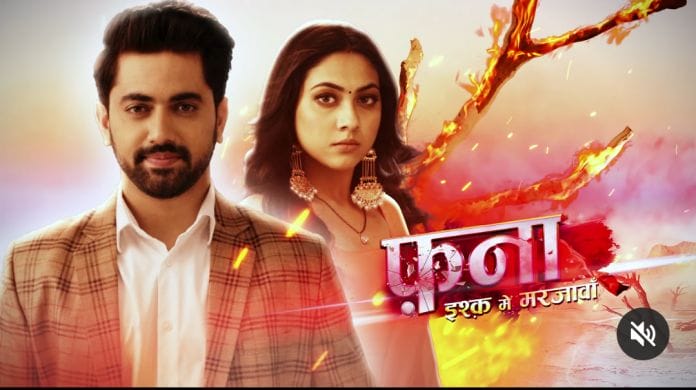 Fanaa Ishq Mein Marjawan 1st July 2022 Written Update on TellyExpress.com
The episode starts with Pakhi serves Halwa to her family. Prema says that there Agastya is waiting for her, but she made halwa for them. Pakhi says that she wants to cook for them for a last time. Prema says that she's not going to Agastya's house forever. There Agastya says to Dadi to leave him and Pakhi alone when she will come then only he can get his surprise. Here Pakhi pretends to receive Agastya's message. She takes her family's leave. She goes out. She cries looking at her family before leaving.
Agastya is wondering why Pakhi hasn't yet reached and gets worried as her number is switched off. Dadi says to call Shanaya. Agastya calls Shanaya and asks about Pakhi. He says that Pakhi told that she will come with Sameer. Shanaya says that Pakhi left long back saying that he is waiting for her outside which shocks Agastya. Mona gives to Agastya a letter saying that she found it at their doorstep.
Agastya reads the letter. Pakhi says in the letter that she trusted Agastya, but he broke it and made fun of her. She accuses him of attacking Shanaya and then pretending to save him. She says that she heard his talk with his private investigator the other day. She says that he really changed, but he didn't. She says that once a monster is always a monster. Agastya gets teary eyes reading the letter.
Other hand Pakhi is on the way in the car. She says that she doesn't want to trust Agastya again. She wants to keep their child away from Agastya and it will be possible only if she doesn't stay here. Here Agastya continues to read Pakhi's letter.
Pakhi says in the letter that she's leaving far from here and she didn't tell this to anyone. She requests him to not harm her family if he really loved her. She adds that that she transferred all his properties back to his name and hope he will get that papers. She requests him to not try to find her. Agastya gets heart broken after reading the letter. Agastya refuses to believe that Pakhi left him. He asks Naveli to get car his car keys to find Pakhi.
Ishan has come to Pakhi's house. He is speaking looking at Pakhi's photo. Just thrn Agastya arrives there and asks Ishan where Pakhi is. Ishan looks on confused. Agastya goes in calling out Pakhi. Sameer says to Agastya that Pakhi left leaving a letter for them. Ishan is shocked knowing this and thinks that it wasn't a part of his plan. Sameer asks Agastya what he did that Pakhi left them.
Agastya says that Pakhi misunderstood that he attacked Shanaya. Sameer shouts at Agastya holding his collar. He refuses to Agastya's clarification and asks him to get out. Agastya says that he will take police's help and finds Pakhi at any cost. Agastya leaves Sameer also leaves to find Pakhi.
In the car Pakhi cries. She says that Agastya didn't leave her any other option. She says that it's better for her and her child that she goes far from him breaking all ties. She says that she's hurting her family and Agastya, but she has to choose her baby over all relations. She says that she can do anything to protect her baby. Agastya is driving the car. He instructs police to find Pakhi anyhow via the call.
Agastya's car breaks down. Pakhi says that she will create a world where Agastya isn't for her baby. She will cross all limits to protect her baby. Agastya cries remembering Pakhi. Agastya shouts Pakhi. Pakhi reaches the airport.
The episode ends.
Click to read