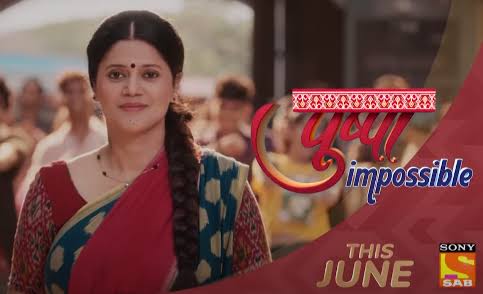 Pushpa Impossible 30th June 2022 Written Update on TellyExpress.com
The episode starts with Pushpa falls on Ashutosh's feet and expresses her fear. Ashutosh encouraged her to not fear as she has the ability to convince them. Pushpa feels the courage. Pushpa greets the members. Pushpa starts giving her presentation. She says that she wants to dream of something which is really difficult to achieve but is needed. She says that she has always fulfilled the duties of a mother and motherhood and no degree is equivalent to it.
However when she needs to do job outside a degree is must for her to achieve something which is why she's here begging them for education. One trustee says that they can understand her intention but its not easy to pass at this age. Pushpa says that she can understand it but is also believes that she can get her right to education.
Ashutosh gives example of Ram Mohan Roy and Savitri Bai who fought for the movement. He says everyone laughed at them at start but they proved themselves. Another trustee says that they are living in real world and not ideal world. Pushpa is waiting outside when Sam brings him vadapav. Pushpa identifies him and asks him to go but Sam gives the vadapav saying that it's from Nanavat sir and leaves. She starts having it. Sam admires it.
Rashi comes there and asks Sam to choose between her and her mother as they are in opposite side. He says that friendship doesn't force to take sides and leaves angrily. Peon serves her tea. Rashi is worried what will happen if she gets admission. Ashwin is at Deepti's place and narrates whatever happened. Two trustees vote in favour of Pushpa while two against.
Manish supports Pushpa though her thought is unique but Sonali is worried about the embarrassment the kids would face. Nanavat comes out and says Pushpa that it's a tie. Pushpa thinks that Nanavat would vote in her favour but Nanavat says he can't vote as he proposed her name for admission. He says the last trustee Saran Sir is the one who would give the deciding vote and Pushpa worries about it.
Prarthana asks Chirag's opinion about Pushpa's decision. Chirag says that she just wants to study and there's nothing wrong in it. However he's worried about the abuses and bullying she would be face in school. Added to it is Rashi and her father who is against Pushpa's decision. Prarthana says she doesn't know what's does her father has against Pushpa aunty that he behaved so bad with her. She says that she also apologised Rashi on behalf of him.
Chirag is confused about what to do when Prarthana says that he needs to support his mother as she may seem strong outside but is really scared inside. Chirag says the voting decides who would be upset Rashi or his mother and he's confused about whose side he should take. Prarthana's mother calls her. She says Chirag that time would say which side he should take and asks him to take that side and leaves.
Pushpa is sitting worried as she recalls Ashutosh's words that only Saran Sir can decide whether she would get admission or not. A guy comes in cycle. The guy sits beside Pushpa and Pushpa asks how's it to study in the school. He says that it depends for person to person as for some it could be heaven while for some it could be hell. He sees a mango tree and starts plucking the fruits and he gives it to her. They both tastes it and likes it. Pushpa recalls her childhood when she was identified as Imlie chor. She also hits the mangoes and they gets lots of mangoes.
Pushpa asks him about Saran Sir and he says he knows the person. She asks how's he as a teacher and he asks her opinion about how a teacher should be. She says that he teacher is someone who should bring out the flavour in students and make them shine. He says that it's kind of difficult given the pay they get but Pushpa reasons that a good teacher should work keeping in mind about students future and not pay. She also says that it was her admission meeting happening inside and he gets shocked hearing it.
Precap : The teacher will ask Saran Sir's opinion about whether they should give admission to Pushpa or not. Ashutosh will say something to Pushpa and she will cry. Rashi will think that she didn't get admission.
Click to read