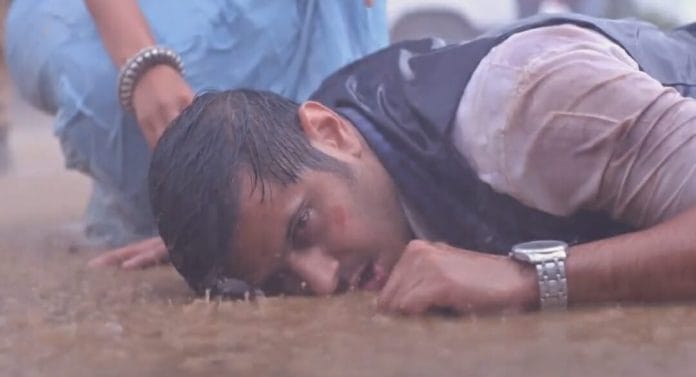 Ghum Hai Kisikey Pyaar Mein Spoilers, Upcoming Story, Latest Gossip , Future Story, Latest News and Upcoming Twist on tellyexpress.com

Star Plus show Ghum Hai Kisi key Pyaar Meiin is one of the most loved shows on Indian television. Right from the time of its inception, the show has been entertaining the masses. Previously, Gulabrao's goons abducted Savi while Virat along with Vinayak and Sai determined to find her.
They followed the direction sended by Savi, while Pakhi got restless for Virat and Vinayak. Whereas, Harini made fun of Chavans values and gets scolded by Bhavani.
In the current track, Virat keeps assuring Sai that he won't let anything happen to Savi. They reaches the location, while Gulabrao smirks seeing Savi and hangs her at a height with the crane. The latter tries to untie herself and shouts for help, while Sai gets shocked seeing her daughter's state.
Here, Sai rebukes Gulabrao for stooping so low and gives him a warning that if anything happens to Savi then she won't leave him. The latter laughs at Sai's state and proclaims to hurt Savi, if Sai won't accept her deal.
Gulabrao tells Sai to leave the village along with her daughter and to never return back, but the latter denies and Virat also takes a stand for her. She looses her calm seeing her daughter in pain, but Virat calms her down and ask to think properly without doing anything.
Ahead, Virat and Sai fights with the goons to save Savi but Virat couldn't able to stand in between several goons. Sai becomes worried for Virat and shows her concern, while Pakhi calls Vinayak and the latter notify her about the situation. She gets shocked and tells Chavans about it.
Pakhi decides to leave for Kankauli in order to see Virat and Vinayak, while Ashwini and Bhavani consoles her. Meanwhile, Virat again stands up and fights for Savi. They gets successful in saving the latter.
Later, a goon points gun at Vinayak while Sai points it at Gulabrao. Virat helps his son while the goon shot at Savi, but Virat risks his life to protect her. Meanwhile, Sai gets shocked and shouts their name.
Now in thr upcoming episode, Pakhi will get concerned for Virat and rushes to Kankauli, while Mohit helps her. Ashwini will get shattered and prays for Virat and Vinayak's safety while Bhavani will assure that everything will be fine.
Meanwhile, Sai will rushe towards Savi and Vinayak being worried for him. She will ask them to wake up, while Savi opens her eyes but Virat will remain unconscious. Sai will get shocked seeing the blood coming out of Virat and screams his name.
Will Sai be able to save Virat?
Will Pakhi and Sai comes face to face?
It would be interesting to see what happens next on the show.
Stay tuned with us for more news, Spoilers and written updates of Ghum Hai Kise Key Pyaar Meiin.