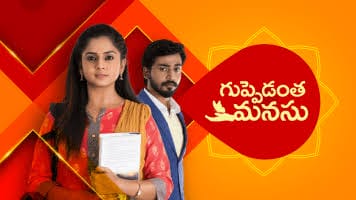 Guppedantha Manasu 10th November 2022 Written Update on TellyExpress.com
The episode starts with Mahindra assuring Jagathi that Rishi will call her mom very soon. Gautham says let's hope it will happen. He asks Mahindra and Jagathi to return home. Mahindra says he is eagerly waiting to meet Rishi but he is controlling himself and it's needed for some time. Gautham says you and Rishi are in pain then what's the need for this separation? Mahindra says it's needed for Rishi's wellbeing. He leaves.
On the way, Vasudhara recalls her life journey. Rishi asks what she is thinking. She tells she is thinking about her life journey. Rishi says your handwork pays off and finally, you became a university topper. Vasudhara says true and so many are behind my success. Rishi says she needs to celebrate her success. He asks Vasudhara what does she want as a gift? Vasudhara says she doesn't want anything. Rishi says asks me once and I won't deny it.
Vasudhara asks Rishi if he will give anything. Rishi says once he gives the word he will not take it back. Vasudhara takes Jagathi's name. Rishi stops the car after hearing Jagathi's name. He fears that she asks him to call Jagathi as Mom. Vasudhara says she is nothing without Jagathi so I want to meet her. He asks her to tell him what she wants. Vasudhara says she will tell and asks him to start the car.
At the lake, Rishi asks Vasudhara why she is making paper boats and asks her if it is needed to play this game again. Vasudhara says previously my wish is different but now I want Jagathi mam to return along with Mahindra. Rishi says he doesn't believe all these things but does it for her. Vasudhara says nature will listen to them and grants their wishes. Rishi asks if she wants his help to make boats. She asks if he knows. Rishi prepares it quickly. Vasudhara asks how he knows. Rishi says she made him learn in the library. She asks if he still remembers it. Rishi says he loves and trusts her so will believe in things that she does.
Devayani waits for Rishi and Gautham. She calls Dharani and asks her to get her green tea. Dharani says you need to wait for some time as I making sweets for Vasudhara as Rishi asked me. Devayani scolds her for not informing her and asks her to not make any sweets. Dharani says she will stop making sweets if she doesn't like it and will inform Rishi about it. Devayani says don't need to make her villain in front of Rishi and asks her to prepare them. Dharani asks Devayani to join her in the sweet making. Devayani asks her to stop irritating her and she asks her to get her green tea.
Rishi and Vasudhara go inside the lake and releases 11 boats writing their wish and praying for Mahindra and Jagathi's return. Vasudhara tells him she is so happy. He says ok and asks her to come out. He sits o the bench. Vasudhara enjoys the view of paper boats moving. She jumps happily and falls into the water. Rishi helps her to stand up and makes her wear his coat. He asks her to sit in his car so he can on the heater for her. Gautham says to Devayani how everyone praised Vasudhara at college. He offers to show her videos. Devayani says no need as Dharani showed them to me. Gautham asks why they didn't come. Devyani says you stay with Rishi all day in college so you have to know about where he is more than us
Episode ends.