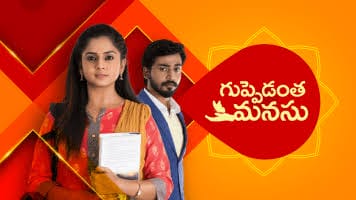 Guppedantha Manasu 15th September 2022 Written Update on TellyExpress.com
The episode starts with Vasudhara looking at herself in the mirror and she talks to herself. Rishi is shown to be standing behind her. Vasudhara sees Rishi in the mirror. Rishi helps Vasudhara and puts her pallu over her head. Rishi says to Vasudhara that she is looking good in this saree. Vasudhara says she is also looking good. Rishi says he will stay away from coffee for today and says he doesn't want to change the dress again. Vasudhara apologises for what she did. Rishi says there is no need to spill coffee on him and says if she wants she can tell him to just change his dress. Vasudhara agrees.
Rishi says to Vasudhara that she knows what he is like so he asks her to be straight forward with him. Vasudhara agrees. Rishi is about to kiss Vasudhara. Devayani interrupts them. Devayani asks what is he doing here? Devayani says this dress is good on him and asks him not to wear the kind of dress he wore before. Rishi agrees. Rishi leaves with Devayani.
Jagathi and Mahindra talk about Rishi and Vasudhara. Devayani thinks to herself that when her time comes she should show Jagathi. Dharani asks Devayani if she wants anything. Devayani talks satirically and asks her to leave. Rishi congrats Mahindra and Jagathi on their marriage anniversary. Phaneendra calls Devayani to come. Gautham brings the cake and calls for everyone. Mahindra and Jagathi cut the cake. Mahindra feeds the cake first piece to Rishi but he takes Mahindra's hand with the cake to Jagathi. Mahindra feeds the cake to Jagathi. Jagathi and Mahindra wish each other on their marriage anniversary.
Rishi feeds the cake to Mahindra and gives the cake to Jagathi.Jagathi thanks him. Jagathi gives the cake to Rishi. Rishi says thank you. Gautham invites Devayani. Devayani congrats to both Jagathi and Mahindra. Jagathi feeds the cake to Devayani. Vasudhara leaves from there. Rishi thinks where did Vasudhara go and searches for her. Vasudhara hugs Rishi from behind him. Rishi and Vasudhara have a romantic moment. Vasudhara thanks Rishi. Rishi asks what is this. Vasudhara says Mahindra and Jagathi are happy because of him and says he is great. Rishi turns and hugs her.
Mahindra and Jagathi think where are Vasudhara and Rishi. Devayani is not able to see Mahindra and Jagathi happy. Gautham asks Rishi where did he go. Rishi answers in a satirical way. Gautham says he understands. Gautham thanks Rishi for making this marriage anniversary a success. Rishi says it's his responsibility. Rishi sees Devayani is out of the mood and goes to her. Rishi asks Devayani if she ate anything. Devayani says she will eat later. Rishi says to Devayani that she played a big role in this marriage anniversary.
Episode ends.