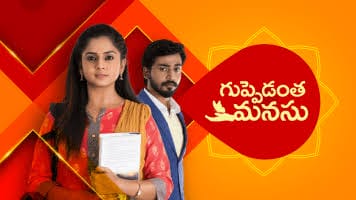 Guppedantha Manasu 16th January 2023 Written Update on TellyExpress.com
The episode starts with Vasudhara thinking of herself as unlucky as she hurt Rishi. Rishi thinks to himself that he still can't believe that Vasudhara hurt him. Both cry at their places. Rishi thinks he has to take the final decision. The next day, Rishi thinks if Vasudhara punished her or if she punished him. Jagathi comes there. She calls Rishi. Rishi sees her. She places coffee on the table. She says she saw the mail he sent and leaves. Devayani comes there and asks Rishi what he wants to talk to her. Rishi says college staff are coming here and you have to talk to them. Devayani says why they are coming here and what I need to talk to them about. Rishi says you will know once they come here.
Later college staff come to Rishi's house and asks why he called them. Devayani scolds them for talking badly about Vasudhara and Rishi. Devayani says you have to idol for others but whatever you did is wrong and if some other is in Rishi's place then that person may fire you from the job. Lecturers feel confused. Devayani thinks about why Rishi is making her scold the college staff. Staff discusses why Devayani is changed as she was the one who asked them to mock Vasudhara.
Devayani asks them to talk. Staff members apologise to them for their mistakes. Jagathi asks Rishi why he called them as Vasudgara is not here. Rishi says I saw Vasudhara's pain and I don't want them to repeat it with any other student. Devayani thinks Rishi is making her lose her respect. She praises Rishi and makes the college staff leave. Jagathi thinks I know Devayani is behind the college staff's behavior with Vasudhara.
Vasudhara feeds food to Chakrapani. He cries recalling how he hurt Vasudhara. Vasudhara asks him to not feel bad in any matter. Chakrapani says he took a long time to understand her and did wrong to her. He says to Sumithra 'they have to think for Vasudhara's future'. Sumithra says god has to think for her. Chakrapani says he is full still Vasudhara feeds him completely. He also Vasudhara to get the cover beside her bag. Vasudhara brings it to Chakrapani and asks what's it. Chakrapani says it's a ticket so go to Rishi as he is the light of your life and marry him. He accepts her success and asks her to marry Rishi. Vasudhara gets happy tears.
On another side, family members get shocked seeing Ridhi coming downstairs with his luggage. Devayani asks Rishi why he came with a suitcase. Rishi says he is leaving. Everyone is taken aback and asks where is he leaving. Rishi says he wants to stay away from his family for some time. Mahindra asks if he is running from problems. Rishi says he can't run from his heart. Devayani asks how can he leave them if Vasudhara cheated on him. Rishi says he is not liking himself so he has to mold himself into a better person.
Phaneedra asks who will handle college responsibilities. Rishi says Jagathi madam will handle it and I already mailed it. Devayani says the minister won't agree. Rishi says Minister agreed. Mahindra asks Rishi to rethink his decision. Rishi says it's his final decision. He requests them to not stop him. Phaneedra asks if he goes to Gautham. Rishi says he will go to a new place and return as a new person. Mahindra asks when he will return. Rishi says don't know.
Episode ends.
Click to read