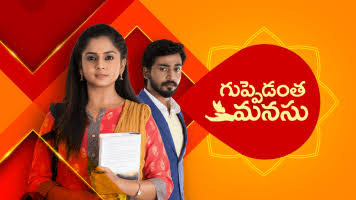 Guppedantha Manasu 4th August 2022 Written Update on TellyExpress.com
The episode starts with Devayani saying to Sakshi that Rishi doesn't want to marry her and she can do whatever she wants. Sakshi says this is too much. Devayani says till how long you can continue to stay with a person you don't like. Sakshi asks Devayani you used to like me till now why are you acting in reverse.
Devayani says I tried to get you together with Rishi but if you are not in his heart what can I do. Sakshi says she will go to court. Mahindra says on whose side Justice is there they will win. Mahindra tells her to go. Sakshi says within two days for Lagna Patrika they should get a call. If not I will come with a poison bottle and drink here and tell that you are the reason for my death. I will ruin your entire family. Sakshi goes away.
Vasudhara asks Rishi what is the problem with the car. Rishi says he doesn't know. Vasudhara says you know how to repair a car right. Rishi says I know small ones I don't know everything about cars. Vasudhara says then what can we do. Rishi also says he doesn't know we already came far from the city.
A farmer comes and recognises Rishi. The farmer comes and asks if he recognises himself. Rishi says he doesn't. The farmer says with his mission education help my children are able to study in school. The farmer asks for if his car got into repair. Rishi says yes. The farmer invites them to their house. Rishi agrees and calls the mechanic to repair the car.
Devayani acts as she is worried infront of everyone and asks to call Rishi. Gautham acts as he is calling Rishi but he doesn't. Phaneendra says we will come to a decision after Rishi comes and we will talk about it.
Rishi and Vasudhara come to the farmer house. The children take the name of Rishi. Rishi is surprised hearing the children know his name. Her mother says because of his mission education our children can study happily. Vasudhara talks to the children. The farmer's family ask them to eat food with them. Rishi agrees. There is a power cut. Vasudhara goes to see why there is a power cut in this house as the next house has power.
Dharani gives Devayani coffee. Devayani scolds Dharani while I am worried about Rishi you are supplying coffee and food. Jagathi comes and asks Devayani what is going on. Devayani says you know what happened as Sakshi came and warned me and said she will send me to jail. Jagathi says there is no need to worry because of Sakshi. Devayani says only Rishi understands me.
Vasudhara checks the fuse and Rishi holds the light for her. They talk about it. Vasudhara asks Rishi for the wire. Rishi gives her and Vasudhara puts the fuse back. She says the current will come soon to the children. When Vasudhara is about to fall Rishi catches her.
Vasudhara thinks this might be the best time to reveal her feelings. But they get interrupted. The children are happy that current came back. The farmer invites them to dinner. The farmer asks them to stay tonight as the mechanic didn't come. Rishi agrees after some convincing and goes to eat.
Jagathi thinks of what happened. Gautham asks how did Sakshi get this much courage.
Episode ends