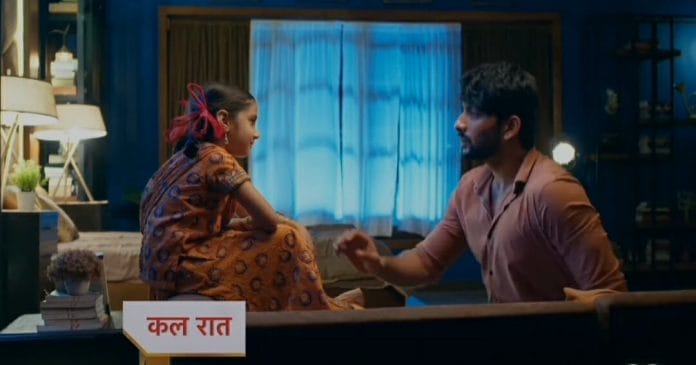 Imlie Spoilers, Upcoming Story, Latest Gossip , Future Story, Latest News and Upcoming Twist on tellyexpress.com

Star Plus popular show Imlie witnessed a five years leap. In current track Imlie and Aryan lost their baby and they blamed each other for the loss. Viewers will get to see a lovely bond between Imlie and Chini. Aryan met Imlie in Pagdandiya and he told her to apologise for ruining the image of Bhaskar Times. Imlie refused to do so as she feels she is right. It will be exciting to watchd what will happen next
Previously it was shown that Aryan ate one laddoo to show the inspector that it is not poisoned and Imlie is innocent. She will never harm other kids. Imlie questioned him as to why he was carrying laddoo in his pocket? What does he want by saving her?
Aryan said that she should thank him instead of blaming him. He told Imlie to sign the apology letter but the latter refused to say sorry and Girish had been brought to Police station at that time. Imlie exposed his truth by beating him.
He tried to take Malini's name but the latter made him unconscious. Aryan decided to leave Pagdandiya after Imlie's innocence was proved. There Chini learned from Meethi that Imlie and Aryan are husband and wife. She decided to unite them. In the morning Imlie saw Chini is missing. She got worried for her.
In the upcoming episodes it will be seen that Imlie will panic thinking where is Chini. Malini will visit her house and will taunt her as usual. She will wish for Imlie's death and Meethi will threaten her to leave their house at once.
Chini will hide in Aryan's car without his knowledge. Aryan will go to a Dhaba to eat food but Chini will eat one plate instead by sitting under the table and that will create a humorous situation.
Aryan will talk to his employee and also he will scold the dhaba workers at the same time. Later Chini will call Meethi from Aryan's phone to inform her that she is with Aryan to execute her plan of uniting him and Imlie. She will request Meethi to not tell this to Imlie.
Imlie will go to police station to file missing complaint as well and Meethi will think of telling her where is Chini as she will be stressed out. Malini will call Aryan to know if he has idea about Chini's disappearance. She will be happy to know that he doesn't know anything.
Later Aryan will reach Rathore Mansion and Chini will also enter. Aryan will get shocked on finding Chini in his room. He will become speechless and Chini will pinch him.
Will Aryan inform Imlie about Chini?
Will Imlie come to Rathore Mansion to take Chini back?
All these questions will be answered in the upcoming episodes.
To know what will happen next in your favourite show Imlie, stay tuned to this space.