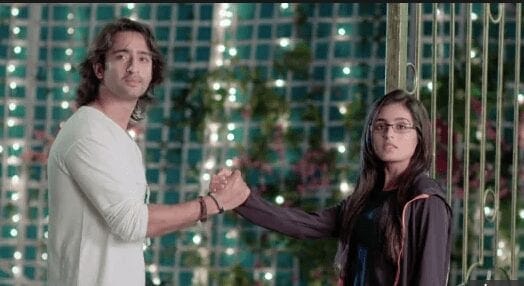 As reported earlier, Meenakshi will ask Kunal to give job to Kuhu instead of Mishti. Kuhu will be delighted after getting job.
In the show Yeh Rishtey Hain Pyar Ke major twist ahead with Meenakshi learning Mishti's truth and later she manipulates her.
Mishti sees Abir's cycle and stops near the temple. Abir asks her what she is doing there and how she came to know he is here. Mishti says she was following her. Later, Kuhu jumps in happiness when she gets the job. She hugs Mishti and says you gave the interview but she got the job because she is the best.
Parul and Meenakshi wonders Mishti is stubborn and they need to wait to know what is going on in Mishti's mind.
Further, Kuhu will join Kunal's office and will be excited about her first day at the office. Here, Meenakshi will meet Mishti and will manipulate her and will try to convince her to work in Abir's NGO.
Abir will recall Mishti. Mishti will come there for interview. Abir will get shock seeing her. He thinks he can't talk to her due to the warning he got from Vishamber. Mishti gives him his resume. Abir will say it is a small NGO why she wants to work here. Mishti will tell him that she wants to become independent thus she will work with him. Later, Abir will find himself in an awkward situation.
Soon, Abir will realize his love for Mishti but something will shock him and he will stop himself from confessing his feelings to Mishti. The promo of the same is out too.
So, what it is that made Abir to stop himself from confessing his love for Mishti? Well, for all the answers keep watching, Yeh Rishtey Hai Pyar Ke.
Stay tuned with us for more updates.