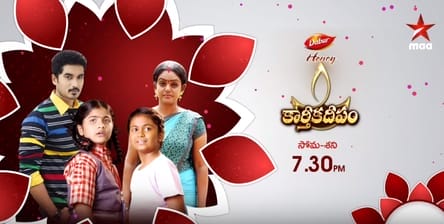 Karthika Deepam 17th May 2022 Written Update on TellyExpress.com
The episode starts with Soundarya asking Hima, won't she feel comfortable in their house. She tells Hima that they are not intelligent to understand her and asks her if she wants her to keep her luggage in the car. Hima thinks Soundarya is angry with her. Soundarya says you're earning and leaving from here as you don't need us anymore but tell me one thing before you leave, why do you refuse to marry Nirupam? Hima looks on.
Soundarya says you're happy with the marriage but you back out at the last moment and insulted me in front of everyone so tell me why you did it otherwise you can't leave from here. Soundarya says you gave us insults for the love we showed for you and I won't let you leave from here until you answer me so take time. Hima hugs Soundarya in tears.
Jwala happily dances listening to songs. Chandramma and Indrudu discuss what happened to their Jwala. Jwala dances with her aunt and tells them she is so happy. Indrudu asks what's the reason behind her happiness. Jwala asks him to not question her. She asks her to not cook food and tells them that she will take them to the restaurant. Indrudu and Chandramma suggest to her that they can enjoy at home and that money can be used for other needs. Jwala gives them money and asks if they are happy. They tell her that they are happy.
Nirupam recalls how Hima refused to marry him. Swapna says I trust my brought up but I lost it when you step down from the auto and I never expected that you will change in this way, Hima rejected you and I can't bear if you ruin your life because of her and feel happy that unlucky Hima didn't enter your life. Swapna says it's good she refused to marry you otherwise her luck may harm you too like it's affected her family so forget her and I will mould your life in a good way. Nirupam looks on. Swapna scolds him for coming in auto. She thinks to keep Jwala away from his life. Nirupam washes his hands and leaves without eating food.
On the way, Jwala tho ms to find out what her grandmother thinks about her. She stops the auto and thinks her life is settled as she has Doctor Saab in her life. She goes to the place where Nirupam stopped his car the last night. Where Nirupam recalls Hima. Jwala comes there and tells him that she came to check his car. Nirupam says nothing happened and asks her if he did any extra in his drunken state. Jwala thinks she made her feel happy and tells him that he didn't do anything wrong. Nirupam thanks her.
Episode ends.
Precap – Hima comes to Nirupam's cabin and asks him to talk with her. He ignores her. She takes the file from his hand and notices her photos in it. Soundarya takes Jwala with her in her car.