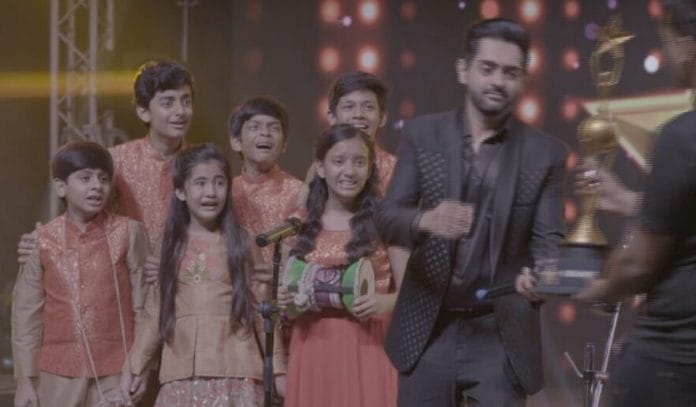 In Star Plus famous show Kulfi Kumar Bajewala, Kulfi wins the competition.
In the upcoming episodes of Kulfi Kumar Bajewale viewers will witness the climax of 'Little Superstar' track with Kulfi winning the trophy.
So far in the episodes, Amyra smartly asked a member of Kulfi's group to reveal her which song they have prepared for the finale. The little boy falls in her trap and tells her the lyrics.
Kulfi and her teammate's get shocked seeing Amyra performing on their song. They started to wonder how she comes to know about the song which they have prepared for the finale. Later, chintu revealed them why he told Amyra their song. Kulfi and her friends decided to quit and step back. There host of the show started calling for 'Benaam Group' to come and perform. Sikander gets worried and prayed for Kulfi to return back. Lovely and Mahinder too searches for Kulfi. Sikander performs on the stage to save little time when audience gets restless.
Amyra gets happy thinking Kulfi along with her friends ran away but her happiness was short live seeing 'Benaam Group' marching towards the stage.
Kulfi and her gang Kulfi sang a beautiful song that touched everyone out there. When the special judges of the show asked her about the song, in the flashback it was show how Kulfi decided to return back and sing. She made her teammates to understand that they can't quit so easily, Amyra stole their song so for that reason they can't step back after reaching till finale. She said- she from her childhood makes her own song seeing the things around her and this time too she will sing the song of the phase they have seen at children's house.
She tells her story to everyone out there. Everyone gets emotional. Kulfi wins the competition.
Ahead in the upcoming episode will see Mia's misdeeds will be exposed in front of everyone. And soon after Kulfi wins the competition, Amyra's health will deteriorate.
What happens next to know more stay tuned with us and keep watching Kulfi Kumar Bajewala Mon-Fri, 8:30pm on Star Plus.