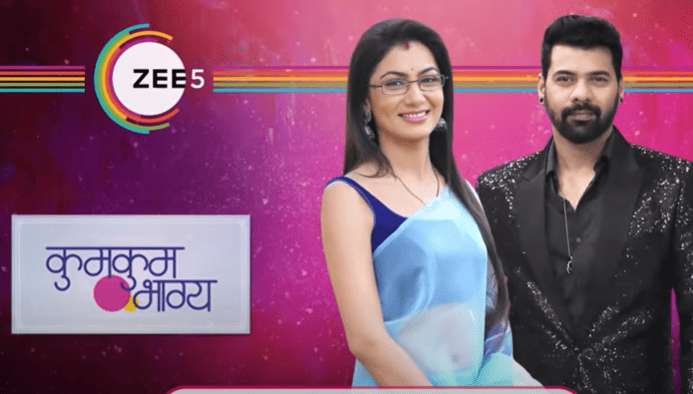 Kumkum Bhagya 3rd June 2022 Written Update on TellyExpress.com
The episode starts with Prachi saying the people who say they are not lying are the people who often lie. Ranbir says to go into her room and look in the mirror if she looks beautiful then what he said is right and if she is not then what she said is right. Prachi asks now you are flirting. Ranbir says yes and asks if she is angry with him. Prachi says she is annoyed by him. Prachi goes away from Ranbir. Ranbir on the call asks for Stanley to bring the divorce papers to his home.
Ranbir goes to change his shirt into his room. Rhea goes after him. Rhea does not find Ranbir and takes the blazer. The ring falls from the blazer. She puts the ring in the blazer and goes away. Rhea goes to Alia and shares with her that she knew Ranbir is going to propose but she didn't know it will be with a ring.
Stanley checks the divorce papers the lawyer says the divorce papers are ready but this divorce will not happen. Stanley asks the lawyer why. The lawyer says the party also has to give you a divorce to get the divorce and he knows Rhea and says she will not leave him. Lawyer calls Ranbir to say the divorce papers are ready.
Prachi comes into the room and sees that the phone is ringing and she doesn't find Ranbir and picks up the phone. Lawyer says the divorce papers are ready and Stanley is checking them. It is later shown Ranbir is attending the call holding Prachi's hand. When Prachi picks up the phone he takes it from her hand and holds her hand. Ranbir asks Prachi why is she picking up his phone. Prachi says she thought it was important and picking it up. Ranbir says you are already in my life asks next. Prachi remembers her memories with Ranbir and leaves him.
Shahana thinks everyone is happy but not Prachi. Shahana says to Prachi that Ranbir will definitely give a party to you. Prachi says she does not want a party, she wants honesty and loyalty from the person who says he can't live without me. Prachi tells her she is mad to trust Ranbir and he just cares for Rhea and his family and he doesn't care about me. Ranbir comes there and eavesdrops on their conversation.
Prachi says this is not my Ranbir and here I feel alone even though everyone is here and home is a rented house where we used to stay after marriage. Prachi recounts her old life with Ranbir to Shahana. Ranbir also remembers the moment when they danced on the terrace to celebrate their anniversary by playing music. Prachi says neighbors came to the terrace as uncalled guests. Ranbir thinks they came to scold us. It's shown Neighbors comes to the terrace when they are about to cut pastry.
They ask who gave them terrace keys. Ranbir and Prachi tell them it's their anniversary celebration. They ask them to feed the cake. Ranbir feeds pastry to everyone. Prachi recalls those moments and says that day is a special day to me but now here we have everything but the hearts of people are empty. She leaves in tears. Ranbir promises to make Prachi get everything. He thinks their love and relationship will be fine once he gets divorced from Rhea then we can stay in the house where we learn to love.
Episode ends.
Also check: