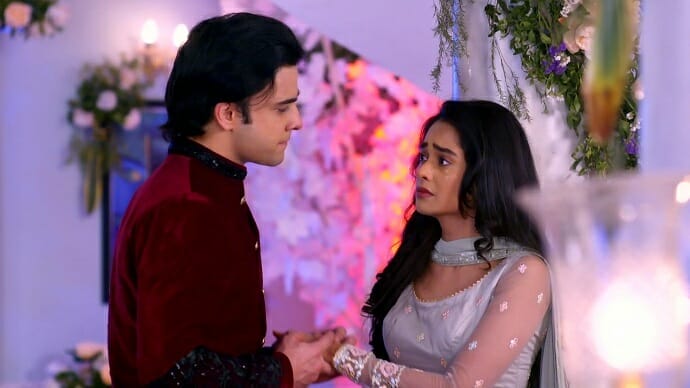 Kumkum Bhagya 9th August 2022 Written Update On TellyExpress.com
The episode starts with Rhea throwing divorce papers at Prachi and tells them that their happiness is shortlived as she will be back soon. Pallavi says it will happen if you come out from jail but I will make sure you will rot in jail. She throws her out. Rhea wakes up saying she won't leave Prachi. Rhea thinks thank God it's just a dream. She goes out she notices Ranbir is sleeping beside Prachi holding her hand. She throws the vase in anger. Later Ranbir and Prachi wake up from their sleep. Ranbir tells her he slept while taking care of her and didn't cross the limit and shows her that pillow is between them. Prachi smiles. She says he can sleep in the bed. They set the bed. Both stare at eachother. Aryan teases them. Prachi goes to freshen up. Ranbir asks why he came. Aryan tells he came to ask him for boxing gloves. Ranbir tells he misses their old days.
Prachi comes out of the washroom and feels dizzy. Ranbir goes to her in time. She hugs him. He asks her if she is fine. Aryan prays to god to make their baby unite them in this way forever. Shahana comes there and calls them to have tiffin. Ranbir forwards his hand for Prachi. She holds his hand. Ranbir takes Prachi. Shahana asks Aryan when he changed as she saw him praying. Aryan tells her Mili changed everything. Shahana asks if he is serious about her. Aryan says yes like you're serious about Stanley. Shahana gets angry.
Rhea wakes up Shaina and Alia. She tells them about her nightmare. She says it might happen. Alia says let papers come as you're not going to sign them. Shaina asks Rhea to be positive as it was just a dream. Rhea says morning dreams may become true. Alia says true, do you have any plan. Rhea tells them about her plan. Alia says this plan might work or they need to leave the house forever. Rhea says they need to play this move.
Pallavi on call thanks the person for sending papers on an urgent basis. Vikram asks her about it. Pallavi says they are divorce papers to make Prachi feel secure. She asks him to trust her. Vikram agrees. Someone knocks calling bell. Rhea opens the door and gets to know it's a courier for Pallavi. She goes to call Pallavi. Alia stops Rhea and shares her doubt that Pallavi is hiding something from them. She meets the delivery man as Pallavi and takes the courier. Rhea opens the courier and notices the divorce papers in shock.
Daljeet asks who came. Rhea hides papers. Daljeet asks what is she hiding. Pallavi and Vikram ask Prachi if Ranbir is taking good care or not. Prachi says he is taking good care. Vikram says he may take care of her more after knowing the good news. Ranbir says they know the good news. Pallavi asks how they know. Ranbir says Dida informed us with sweets and it's good news that cow Kalyani delivered her baby. Vikram and Pallavi smile. They say their good news is different. Prachi asks what's it. Pallavi says let's come and you guys will know it. Daljeet asks what Rhea is hiding.
Pallavi asks her what happened. Daljeet says Rhea is hiding something. Rhea says I thought you will change but you brought these papers. Vikram asks they are the same right? Pallavi says yes. Dida asks what's happening. Rhea tears the divorce papers and tells Pallavi you have made your decision, and now I made my decision right on your face. She throws torn divorce papers on Pallavi. Pallavi gets angry and raises her hand to slap Rhea. Alia holds Pallavi's hand. Others look on worried.
Episode ends.
Also See: