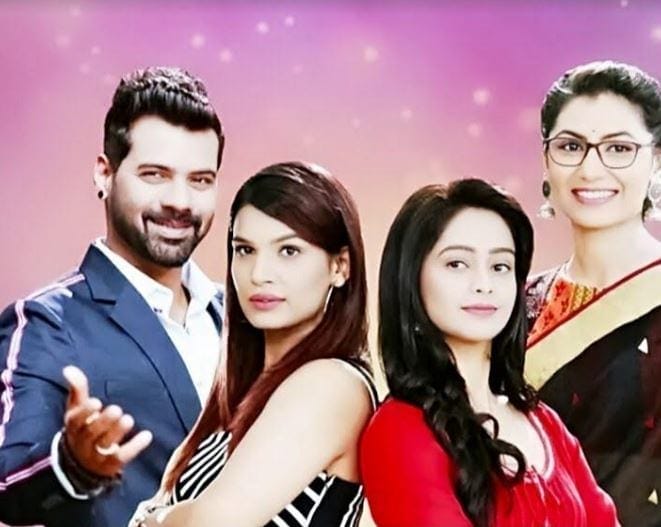 The episode starts with Aliya thinking about Purab's words about leaving her for Disha. She's drinking furiously when Purab comes there. She lashes out at him and says that he has to apologize for his behaviour with her. Purab denies doing any such thing and Aliya taunts him. Abhi comes there and Aliya taunts him too for not saving her. She feels unlucky for having such brother and husband. Abhi says that he's sure that she did the accident with her consciousness. Aliya feels terrible. She threaten Purab to leave Aaryan too with her and emotionally manipulates Purab.
Aliya goes to Aaryan and says that she wants to say something to him. Aaryan gets confused and asks what. Aliya is about to reveal when Purab interrupts he says nothing and hugs Aaryan. He recall Abhi asking him to stop Aliya by apologizing for time being. Aliya gets determined to inform Aaryan but Purab apologizes her. A confused Aaryan asks what's wrong with them but both Aliya and Purab hides it from them. Aliya warns Purab unknown to Aaryan to not repeat leaving her again.
Sanju visits a local Don to kill Sanju for troubling him. They asks for 15 lakhs from him and he agrees. His friend says that the waiter has only asked for 10 lakhs and why should they pay 15 lakhs for him. Sanju chides him that he may keep asking them for money and he can't keep giving him. His friend is hesitant but agrees for Sanju. Sanju then pays 5 lakhs as advance and asks them to get the remaining money after completing their job.
In the meantime the waiter calls Sanju and says that he's waiting for him. Sanju says that he'll come in 15 minutes and asks him to wait. They all get ready to leave. Ranbir and Prachi are on their way to home in his car and they fight as always over who's the reason for being late. Prachi asks him to shut and decides to not speak with each other till their journey ends. Ranbir in order to scare Prachi drives the cat with high speed and Prachi shouts him to stop. She gets down from the car and Ranbir asks her to go. He. Leaves leaving her in the middle of the road. Two men comes very close to Prachi in their motorcycle and Prachi immediately moves away. She finds something suspicious about them. Shahana calls her and she informs her of the same who just mocks her. Irritated Prachi just cuts the call.
In the other hand Rhea spots Sanju on road and asks why's he here. Sanju says that he has come to impress his Prachi. Rhea asks him to go as he may land her in trouble.
Sanju informs her about the waiter blackmailing him and Rhea gets irked. Sanju sad that he'll manage and Rhea asks him to make sure that her name doesn't get involved in any of his acts. Ranbir's grandmother and Pallavi video calls him and Ranbir says about Leaving Prachi on road to then. They scolds him and asks him to go and get Prachi. They asks him to drop her home and then come back. Ranbir agrees grudging.