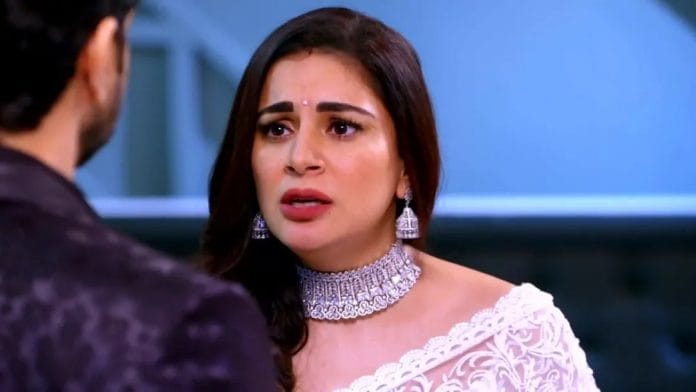 Kundali Bhagya 26th October 2022 Written Update On TellyExpress.com
Episode begins with Preeta asks Arjun that why he sneaked into the school if he is scared so much then. Arjun tells her that she brought him to the school. She tells him that he came by himself. She says that she is here to save her daughter and she can risk her life to save her daughter. She asks him to stay there only if he can risk his life to save his loved one or else he should return and leaves from there.
Rishabh tries to sneak into the school. He gets shocked seeing Sherlyn there. Sherlyn talks about their past which annoys him. He asks her that how can she talk about it in this situation. She asks him to not go that way because there is a danger. He tells her that his daughter is inside so he has to save his daughter. She apologizes to him saying that it's all happening due to her curse. She says that she will pray for his daughter safety. He apologizes to her for talking rude and leaves from there. Raja and Vishnu searches students. They misunderstands terrorists as students. Terrorist boss beat Vishnu up. He orders Raja to find the students and inform him.
Teacher asks Kavya to not speak loudly. Preeta comes there and knocks the door. Kavya opens the door. Preeta gets relieved seeing her daughter. Kavya asks her that why the latter came there. She informs her about terrorists and their weapons. Terrorists comes there but finds no one there and leaves from there. Kavya learns that Arjun is in the school. She tells other students that they will be rescued because Arjun is there. Preeta asks her to keep quiet.
Prithvi sees Arjun. He plans to use terrorists against Arjun. Kareena scolds Srishti for creating a drama. She asks her to not show like only the latter is worried about Kavya. Srishti yells at her. Mahesh scolds them. Luthras sees Sherlyn there. Sherlyn tells Police inspector that Rishabh trying to enter the school through back door.
Terrorists spots Prithvi. Terrorist boss asks Prithvi that if the latter is teacher. Prithvi tells him that his personality is like hero and rockstar. He says that they lacks general knowledge. He says that he know they are terrorists. He asks them to think before speaking. He says that he is confident because he know everything. He says that he even know that students escaped from them. He informs them that this is VVIP school so politician and businessman's children studies there. He says that he know this school layout and where students hiding now. He tells them that he can help them but he is not in a mood today. Terrorists apologizes to him. Terrorist boss joins hands with Prithvi. Prithvi thinks that he can't betray his country so this partnership will last until he kidnaps Kavya.
Police inspector stops Rishabh from entering the school. Rishabh learns that Sherlyn told them about him. Police inspector tells him that they have a plan to rescue students. One of the terrorist points a gun at Arjun. Arjun thinks that this terrorist will take him to Kavya.
Episode ends.
Also See: