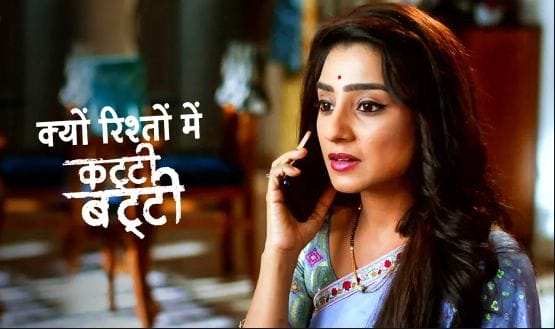 Kyun Rishton Mein Katti Batti 12th June 2021 Written Update on TellyExpress.com
Episode starts with Rishi insisting Shubhra to ask Harsh to stay. Shubhra requests Harsh, while he smiles and agrees for Rishi's happiness. Kuldeep sees them and gets into thinking.
Here, Chandrani faces Samaira. Samaira presents herself as a perfect daughter-in-law, while Chandrani mocks her. She states that Kuldeep only have one wife and that is Shubhra. Chandrani proclaims that Samaira can never take Shubhra's place in their life. She then sees the bangles and reminds that Samaira have forcefully taken it from her. She orders Samaira to return it, while latter removes and drops it down. Chandrani rebukes her for misbehaviour. Samaira challenges Chandrani, while she states that she will never let Samaira get sucessful in her plan and goes out. Whereas, Samaira says that everything is fair in love and war.
Kuldeep makes Shubhra meet a new psychologist for Rishi. He states that from now on Dr. Upasna will treat their son, while Shubhra looks at him being stunned. She faces Dr. Upasna and decline her offer calmly. She notify her that Dr. Harsh is treating Rishi, while Upasna starts praising him. She ask them to continue their treatment with Harsh and leaves from there.
Ahead, Kuldeep follows Shubhra and questions her for declining Dr. Upasna. She faces him and states that Harsh is best for Rishi and they can't get any better therapist then him. Kuldeep holds Shubhra's arm and ask her that why she supports Harsh so much. He questions that why is he so friendly with Shubhra and her family? To which Shubhra replies that Kuldeep can never understand the value of relations. He then ask that why Shubhra is lying to Rishi about Harsh's identify? To which she says that she can do anything to bring Smile on Rishi's face. She leaves from there.
Samaira and Phirki hears their conversation. They discuss about the scenario and Samaira thinks about Harsh identity which they have hidden from Rishi. She smirks thinking about her plan, while Phirki warns her to be careful about Kuldeep as he is showing more interest on Shubhra.
Madhura stares at the divorce papers given by Samaira. She gets flashes of Samaira's words. At that time Chandrani comes there and gets shocked seeing Kuldeep and Shubhra's divorce papers. She gets emotional and questions about it to Madhura. She states that she is trying so hard to unite Kuldeep and Shubhra. Madhura faces her and replies that their relationship is already broken, when Kuldeep have choosen Samaira instead of Shubhra. She says that Chandrani will anyhow support his son. She ask Chandrani to think about Shubhra's pain and says that divorce can give Shubhra freedom. Chandrani gets heartbroken and states that she will talks to Shubhra and leaves from there.
Further, Samaira stops Shubhra and taunts her regarding her relationship with Harsh. She ask how she manages Harsh and Kuldeep together. She puts allegations on Shubhra and points finger on her character. Shubhra gives her a befitting reply. She questions if Samaira have lost control over Kuldeep? She advice Samaira to have a clear heart and says that her insecurities will never let her stay in peace. She mocks Samaira for her condition, while Samaira glares at her being furious.
The end.
Also Check: