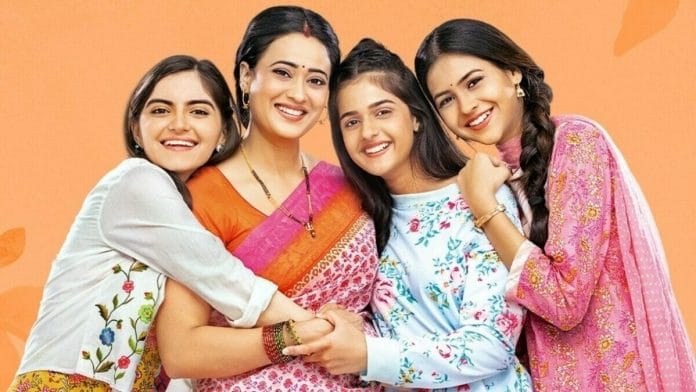 Main Hoon Aparajita 16th January 2023 Written Update On TellyExpress.com
The episode starts with Akshay asking Aparajita who are Chavi, and Disha and why Chavi, Disha, and Asha are staying at their place. Aparajita says Disha and Chavi are the house owner's daughters who are staying with them as they went to out of the station. Akshay asks what about Asha. Asha says her parents went on a Bangalore trip. Akshay says he is hungry. Aparajita says she serves him and asks the children to eat in their room. Akshay says let's eat together like a big family. Amma agrees. Akshay calls Chavi. Real Chavi says yes papa. Akshay asks why she said papa. Disha says my sister's name is also Chavi. Veer comes to Akshay's house area and thinks to kill Akshay. Akshay says to Aparajita that Chavi will look like Chavi if she grows up. Aparajita agrees. He asks where is their Chavi. Aparajita says she is sleeping.
At the dining table, Akshay asks Asha to change her seat with Aparajita and tells her Aparajita sits on his left side. Asha agrees. Aparajita is about to eat food. Akshay stops her and asks if she forgot their rule. He says he has to feed her first bite. He feeds her. Dadi and the kids smile seeing them. Akshay says she is my legal wife and I have the right to do it. Mohini and Manish come there and witness it. Akshay feeds one more bite to Aparajita. Manish knocks on the door. Akshay feels happy seeing him and hugs him. He sees Mohini and says Mohini. Mohini feels happy. Akshay says you came to the hospital, isn't it? Mohini says yes but why you didn't recognise me there? Akshay says sorry sister. Disha and others try to control their life. Mohini says I'm not your sister and I'm Manish's sister. Akshay says it's like we met you and have we met before? Mohini says many times.
Akshay says he didn't remember. Manish says Mohini is a fabulous physiotherapist. Mohini holds Akshay's hand and says she will cure him. Akshay removes her hand. He introduces Aparajita as his wife and asks Mohini to teach that trick to Aparajita. Mohini tries to make him recall the past by giving clues. Akshay feels pain. Aparajita indirectly warns Mohini and sends her. Manish takes Mohini outside and asks why she did it. Mohini says she lost her cool and did you see how is Aparajita showing right on him? Aparajita comes there and says she did it to save Akshay. She warns Mohini to not cross her limit and assures her that she won't sleep in Akshay's room. Veer hears it and thinks his work is easy if Aparajita stays away from Akshay.
Aparajita goes to Akshsy and gives him medicines. Akshay says Mohini is trying to get over friendly with me but she doesn't know I have a beautiful wife Appu. Aparajita gives fake smile. She asks him to apply medicine to his wounds. Akshay requests her to apply the medicine. She applies medicine to him then she asks him to sleep. Akshay tries to touch her but she goes back. Akshay asks why she is feeling shy in front of her husband. Aparajita makes him sleep on the bed. He asks her to make him sleep using her technique. Aparajita makes him sleep by moving her hand in his hair. She notices he is sleeping and leaves the room closing the door. Veer enters Akshay's room with a knife.
Episode ends.