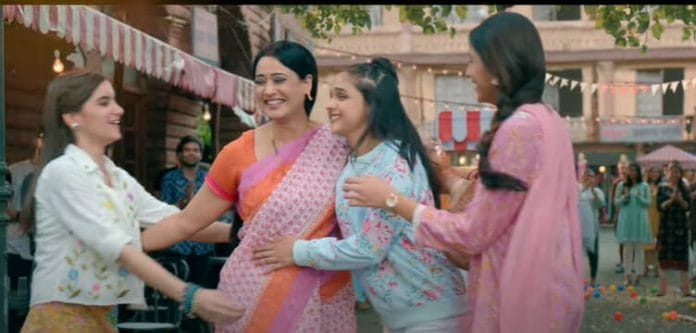 Main Hoon Aparajita 27th October 2022 Written Update On TellyExpress.com
The episode starts with Aparajita seeing Asha on the bed and recalling what Mohini said. Aparajita asks Asha to get up and says they have to go. Asha asks where are they going? Aparajita says they are going to leave the house. Asha wakes up from the bed hearing this. Aparajita says to Asha that after what happened here they can't stay here.
Chavi packs their bags. Disha says to herself that she will not allow Akshay and Mohini to have their way and says they are not going to leave the house. Chavi asks Disha not to do anything. Aparajita comes and packs their bags. Disha asks Aparajita if they are going to leave their home just like this? Aparajita says we call it home only we feel safe there and asks if they feel safe here. Disha doesn't answer her question. Aparajita convinces Disha saying it is a home where all 4 of them are. The girls hug Aparajita hearing this.
Akshay says to Mohini that he hopes what she is saying is right as he trusted her. Akshay recalls what Aparajita said. Mohini asks Akshay if he thinks she is lying? Mohini convinces Akshay that she didn't lie. Mohini notices Akshay is moody. She asks what is disturbing him. Akshay says Chavi. He says he felt he lost the respect and love of Chavi for him with today's incident. Mohini says Chavi is upset but she still loves you more than Aparajita so she will accept you back. Akshay asks her to get the village house documents, Aparajita needs to accept the house for the kids. Mohini agrees.
Amma searches for her blouse. She sees Aparajita and asks her to help her to pack her things. Aparajita wipes her tears and tells Amma about the tablets she needs to take every day. Amma scolds her and says she will leave the house with them. Aparajita tells her it's not good for her to move with them in this state. Amma asks if she is leaving her. Aparajita in tears says you became my mom and I never thought I will leave this house before my death but now it's happening and you can't stay with us at this tough time in this state but I will return for sure, it's my promise. Amma cries holding Aparajita. Chavi and her sisters come there and join the hug.
Aparajita, Chavi, Disha, and Asha come out with their luggage, and they recall their happy moments in the house. Akshay asks Aparajita to accept the house in the village for kids. Aparajita asks him to not worry about the kids, I'm taking care of them for 15 years and will do it. She is about to leave the house. Mohini holds Aparajita mangalsutra and asks what's the work of it. Aparajita says you can break it but still people call me Akshay's wife and this house's daughter law and you're house breaker. Mohini snatches Aparajita's mangalsutra. Aparajita says Amma used to say life is not the same every time and Sriram went to exile and return to the kingdom and in the same way we will return to this house. Aparajita and her daughters leave the house in rain. Mohini closes the main door.
Episode ends.
Also Check: