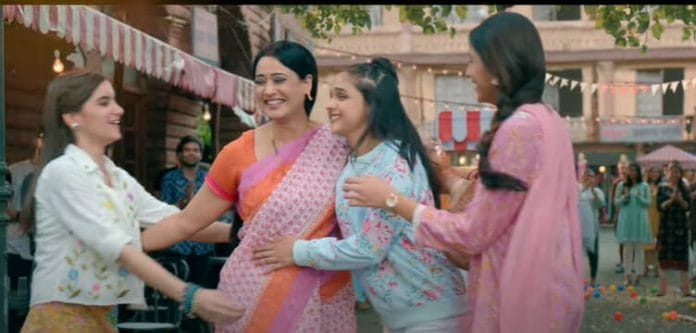 Main Hoon Aparajita 29th October 2022 Written Update On TellyExpress.com
The episode starts with Aparajita praying to God. Some Hijras who do Maata Rani Bhajan on a truck see Aparajita and her daughters. A Hijra calls Aparajita and asks her if she needs any help. Aparajita takes this as a signal from Goddess and asks them to drop them wherever they are going. They agree. The people in the truck help Aparajita and her daughters get in the truck. Aparajita sees that Asha has a fever and asks Disha for the medicine saying it is in the purse. Disha gives the medicine to Aparajita. Aparajita asks Asha to wake up to have medicine. Aparajita seeing the Goddess prays to her to show them a way on what to do next.
Akshay gets the information from Manish that Aparajita's van is left on the roadside. Akshay asks Manish to call him if he has any information about Aparajita.
The Hijra says they reached the place where they should go and asks Aparajita where they should go. Aparajita says they will get down here. Disha sees their shop and says "we came back to the palce where we started". Aparajita says we didn't come back and says we were brought here and says this is Maata Rani's Ashirvad. Aparajita and her daughters get down from the truck. Aparajita recalls what Guffran said about the back room being vacant and the rent owner still collecting the rent even if they don't use it. Aparajita breaks the shop lock. Aparajita and her daughters open the back room that hasn't been used for a long time. Asha says she is having head ache. Aparajita asks her to sit down. Aparajita cleans the bed. All the girls sleep on the bed.
Aparajita washes herself and opens the window. Aparajita decides to start her new journey from today and not lose hope. Aparajita gives Aarti to Lord Siva with her bare hand. Aparajita prays to Lord Siva that when they go into the house they should keep their head held high. The girls wake up and see that Aparajita is giving Aarti to God with her bare hand. Chavi asks Aparajita about her hand. Aprajita says she doesn't feel any pain as she gave this Aarti to Lord Siva. Aparajita asks Asha how is her fever. Asha doesn't reply and looks at Aparajita's hand. Aparajita says there is no need to make sad faces and says they have to clean the house. Aparajita asks Chavi to put Tulsi in the pot outside. Chavi agrees. Aparajita recalls what Dadi said about Tulsi protecting the house.
Disha complains saying this is all the doing of Mohini. Disha tries to break the furniture in anger. Aparajita stops Disha and says not to break their furniture.
Mohini is shown to be throwing out all the things belonging to Aparajita and the girls. Dadi asks for the phone saying she has to talk to the girls. Mohini says to Dadi if she wants she can talk to her. Dadi scolds Mohini saying she is an elephant who destroys everything. Mohini hearing this decides to tease Dadi. Mohini hangs the phone near Dadi but she doesn't give the phone. Dadi sees the photos of the girls thrown on the ground and feels sad seeing them. Aparajita encourages the girls and talks to them what they can do with anger.
Episode ends.
Also Check: