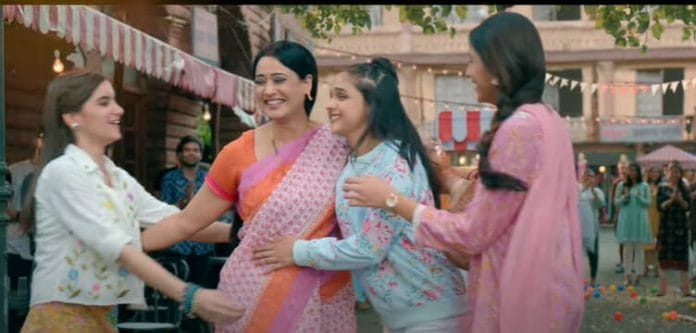 Main Hoon Aparajita 28th October 2022 Written Update On TellyExpress.com
The episode starts with Mohini complaining about the fuse going out in the house all the time. Mohini says she has to fix the house and says she will erase the existence of Aparajita and her daughters from this house. Mohini leaves from there. Akshay feels guilty. Amma says there is no need to act as no one is here. Dadi asks Akshay how can he treat his own daughters like this.
Aparajita and her daughters reach their laundry shop and see that the lock has been changed. Aparajita calls Chadda. Mrs. Chadda takes the phone from Mr. Chadda. Aparajita says to Mrs. Chadda that someone changed the lock on their shop. Mrs. Chadda says she is the one who changed the lock on their shop as they didn't give the rent on time. Aparajita questions Mrs. Chadda on how can she do this as they pay the rent and it might be their place but the shop is hers. Disha asks Mrs. Chadda if she is doing this on Mohini's orders. Mrs. Chadda tells Aparajita to talk politely and tells them to arrange the money and cuts the call. Disha says to Aparajita it is all Mohini's doing and asks where will they go now. Aparajita says she doesn't know. Aparajita asks Puppy for help. But Puppy hearing Aparajita's voice doesn't help them. Asha says to Aprajita that she is hungry. Aparajita takes her daughter's in the van.
Mohini says thanks to Manish for talking to Chadda and closing their shop. Aparajita says to her kids they can go for a long drive in our ram pyari. Asha asks if can't they stay in a hotel. Aparajita says they can stay if they get a hotel in their budget on way. Asha says she is hungry. Aparajita says the rain is stopped so let's eat paratha in the roadside shop then we can see the place.
Akshay asks Amma to eat food. Amma in tears says she doesn't eat food and calls him Rakshas for making Aparajita and her daughters leave the house. Akshay says I offered her house but Aparajita denied it because of her ego they are on the streets so stop blaming me. Aparajjta orders parathas. They eat in their van. Local men eye them in the wrong way. Aparajita notices them and asks Chavi to close the curtain. Amma says it's their house and what kind of dad you're? You failed to give protection to your daughters and why can't you shift to a new house with Mohini? She says you're my son that's why I'm not cursing you. She asks if he can forgive himself if something happens to his daughters. Akshay wipes his tears and leaves asking her to eat when she is hungry.
Aparajita asks Chavi to pay the bill. Chavi takes a handbag to give money. She notices the keys and realizes Akshay may keep them in his bag when she refused to take them. Akshay tells Mohini that he placed keys in Chavi's handbag and wishes she can see them so they can go to that house. Aparajita paid the bill. Chavi tries to tell Aparajita about the keys but she didn't.
Aparajita starts her van and notices how those men are eyeing them. On the way, the van gets stopped. Aparajita asks them to sit inside and notices the bumper is heated. Eve teasers come there and ask them if they need help. Aparajita denies it and asks them to leave but they come closer to them. Aparajita and her daughter thrash eve teasers. Police patrolling vehicle come in that way. Eve teasers escape from there. Chavi notices she lost the key while beating those men. She searches for it. Aparajita takes her under shelter and asks what's she searching for. Chavi says dad placed Village house keys without my knowledge and I lost them while beating goons. Disha says they faced this dark night because of Akshay and they can never forget it. Aparajita says God is testing them and he tests people whom he trusts. Disha asks what kind of logic it's. Aparajita says he wants to see how much pain we can bear then he will give us the best results and we need to wait for it. They drench in rain. Aparajita covers them in a plastic sheet. She says I thought everything ended when your dad left me but today I didn't feel that way because now I have my daughters as my support, I feel everything get settled soon.
Episode ends.
Also Check: