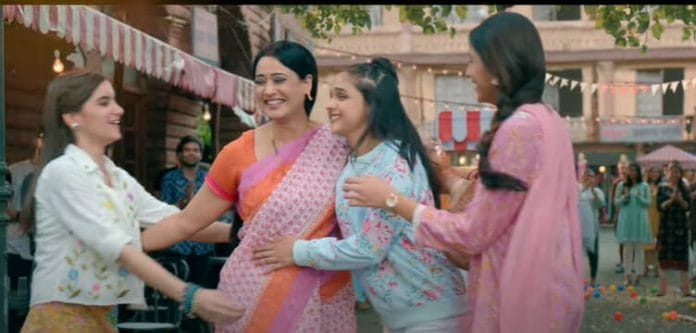 Main Hoon Aparajita 4th November 2022 Written Update On TellyExpress.com
The episode starts with Akshay's daughter about to sit in the shopkeeper's car. Aparajita notices the shopkeeper signing his men. She stops the girl from sitting in the seller's car and says she will not go anywhere with you. Shopkeeper asks her to do her work. Aparajita asks him to take money from her but he denies it. Akshay's daughter says she can't take her help as she is a stranger. Aparajita asks how can she go in a stranger's car. She threatens the shopkeeper that she will call the police if he didn't leave taking the money. The shopkeeper leaves taking money. Aparajita tells the girl that the shopkeeper's intentions are not good and she noticed his signs to his men. Mohini's daughter says I didn't notice him as it won't happen in Dubai. She says I'm from Dubai and purchasing these Jhumkas for my mother. Aparajita says so you're from Dubai then why did you come here. Mohini's daughter says she came to surprise her parents who stats here. Aparajita says you traveled all alone? She says she too has 3 daughters. Disha, Chavi, and Asha try to take Aparajita sarees from Mohini's men. Chavi receives Veer messages. She calls him and asks him to come to help them.
Aparajita offers Akshay's daughter to drop her in her Ram pyaari. She says she already hired a cab and thanks Aparajita for help. Veer asks Chavi what happened. Chavi says they are throwing our things without our permission. She realizes she is sharing with Veer, she asks him to not come as I shared by mistake and Disha won't leave if you came here. Mohini thinks they are busy here and unaware of the real plan I.e I made my men place a snake inside their washing machine and it's interesting to see whom that snake will bite. Mohini man places the snake inside the washing machine without Guffran knowledge.
One man comes there and purchases all things that belong to Aparajita's family. Mohini asks that man to take Aparajita's prepared blanket for Chavi and says it's worthless. Akshay stops her and asks what's happening. Mohini says nothing I'm throwing old things but these girls are creating Hungama. Akshay says I know that you may create this drama but I warned you to not. Akshay asks the person who bought the things to return them but he denies it. Akshay offers him double the money. Chavi says they don't need his help or fake sympathy. She asks the person to take all things. Akshay says your mom is instigating you against me but the truth is. Chavi says no need to hear anything from you as you trusted Mohini's words and ousted us from home. She says she doesn't even want to call him dad. He asks her to not say it that way.
Chavi says I may feel good if you think like my father for a second but you thought like Mohini's husband and you didn't try to know the truth and the truth is Mohini's friend's son tried to kiss me forcefully. Akshay gets shocked. Chavi says you take our love for granted and you break my trust and I can never trust you again. She takes the blanket from him and says this blanket is a gift from my mom and no one has the right to sell it. She leaves with her sister. Chavi takes Disha inside to bandage her wound. Guffran asks them what happened and how Disha is injured. Asha asks him to do his work and places clothes in the washing machine without seeing the snake.
Aparajita asks Asha where was she? Asha says she was putting clothes in the washing machine. Guffran comes and says to Aparajita that they are hiding something from him and Disha is injured. Aparajita asks Asha about it.
Akshay comes and asks Mohini what did she do? Akshay questions Mohini about what happened at the party and asks Mohini why didn't she stop when someone is misbehaving with Chavi. Mohini says she also has a daughter and says she would never do anything like that to Chavi. Mohini says she would never spoil her own party. Akshay questions Mohini on why did she suddenly arrange party that day. Asha says to Aparajita what happened. Aparajita says she will not leave Mohini. Mohini acts like she got hurt by his questioning and asks Akshay to call the police to throw her in jail. Akshay presses Mohini for an answer. Mohini doesn't answer the question and still acts like she is hurt by his questioning.
Aparajita asks where is Disha. Aparajita sees that Disha is hurt. Akshay warns Mohini to stay away from her daughters and Aparajita. Aparajita does first aid for Disha. Mohini says to Akshay she will stay away from her daughters but not from Aparajita and says she has to pay for what she did to Mohini. Aparajita and Disha talk about Mohini. The snake comes near Aparajita's feet.
Episode ends.
Also Check: