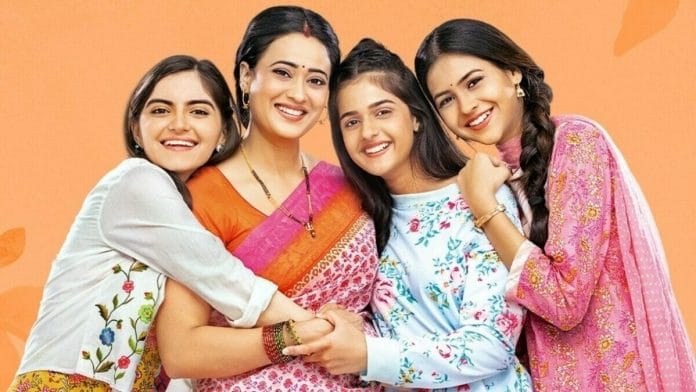 Main Hoon Aparajita 8th January 2023 Written Update On TellyExpress.com
The episode starts with Mohini giving a flower to Aparajita. Aparajita agrees to do tapasya. Mohini thanks her. Guruji says the decision is made so it takes one hour to start the puja and this is going to be a crucial time. Nia falls unconscious. Mohini and others rush to her in worry. They take Nia to the room and make her drink juice. Mohini says you didn't eat anything that's why you felt weak. Nia says I'm fine. She tells Aparajita that Si is helping Disha to track the truck. Amma says Aparajita agrees to do the puja so we will find Akshay soon. Nia feels bad seeing her mom. Guruji helpers come there and ask Aparajita to get ready for Puja. Mohini on call asks Manish to find out about the truck to find Akshay. Puppy and another lady ask Mohini what happened to Akshay. Mohini says Akshay didn't return home from last night. Puppy asks why can't they search him. Mohini says they are searching for him. Puppy says one day you threw Aparajita out and now Akshay is disappeared from last night. Mohini feels hurt. They leave.
Guruji tells his students that Aparajita will sit in the puja as Akshay's wife so not to let anyone touch these things. He goes for his meditation. Mohini hears Guruji's words. She sends Guruji students and touches the wood. She scolds herself for risking Akshay's life. Nia comes there. Mohini returns to her room. Nia comes there and asks what she did. Mohini says she thought she can touch as she is Akshay's wife. Nia says you're wife then why you allowed Aparajita to do this puja and won't you have faith in your love that it can save him. Mohini says she got defeated in front of Guruji and Amma's faith so I allowed Aparajita to do this puja for Akshay. Nia comforts Mohini saying nothing will happen to Akshay. Mohini says I hope so.
Disha and Si go to the near shop to check the Cctv footage. Si removes the cable of the computer. He says it's not working and tells her that he will take her to the shop he knows. Chavi calls Veer. Veer disconnects the call. Veer is about to attend his men's call but by mistake, he attends Chavi's call. He asks if he lowers the temperature. Chavi asks which temperature. Veer manages her by saying lie and asks if they find out about Akshay. Chavi tells him Aparajita is doing puja to save Akshay. Veer asks her to inform him if they find out about Akshay's whereabouts. He disconnects the call and thinks no one can save Akshay.
Asha makes Nia sit. She says hopes this puja will bring back their dad safe. Nia apologises to Asha and says she realised how much they miss their dad all these years. Asha says hopes dad is fine as I'm missing him too. Nia hugs her. Asha asks Nia to take care of herself and she goes downstairs. Disha requests a medical store employee to show them their footage. Si warns the medical store girl so she lies to Disha that their shop Cctv footage isn't working. Disha feels disappointed. She goes aside to attend Asha's calls. Veer meets Chavi and learns she didn't doubt him. Veer says to Chavi that he won't let anything happens to her das. Chavi says she trusts him. Veer says he won't lose her trust. Chavi sees blood on his hand and asks him what happened. Veer lies to her. He asks her to go inside. Chavi leaves. Veer thinks Chavi loves me and she didn't doubt me even after seeing her Dad's blood and in a few more hours Aparajita will wear a white saree and Chavi will become my bride.
Mohini thinks if she did wrong by allowing Aparajita to do the puja for Akshay. She sees herself in the mirror and thinks Akshay always belongs to her. Guruji goes to Amma's room. He asks Amma to give things related to Akshay to place them in puja. Amma says she has it and takes the box but it slips from her hand and Akshay and Aparajita's wedding photo falls near Guruji's feet. Guruji takes a photo and touches it and says their decision of making Aparajita do this puja is correct but Aparajita has to finish the puja by crossing the hurdles and it's going to be a tough one.
Episode ends.