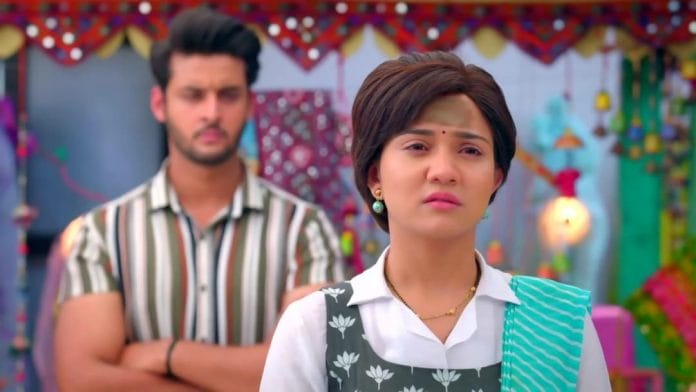 Meet 13th September 2022 Written Update On TellyExpress.com
The episode starts with Meet telling the investors about all the perks and loss if they break the partnership with Ahlawat Pharmacy. She recalls how she filled the briefcases with papers not with money. Meet stops them from opening the briefcases and tells them to sign the stamp papers first where its written they won't get to work with Ahlawat Industry again. Barfi tells Babita that today will be a history for Ahlawat Industry, God knows how will Meet handle the investors. She doubts that. Raj comes and says she is so much in doubt nowadays. Why doesnt she go to the office and see it herself how Meet is doing a good job. Barfi thinks it will be a great opportunity for her to see Meet getting insulted in front of all in the office.
Barfi calls Neelam and leave for office. Meet Ahlawat asks Masoom what Meet is doing in the meeting. Masoom says Meet didn't let her in and she gave briefcase to investors. Meet Ahlawat thinks surely Meet accepted his advise and returned back the money to them. The investors give it a second thought and decide not to end their partnership with Ahlawat Industry as they know Raj for many years and they feel they should give one chance to Meet. Meet thanks them for showing trust and they leave without taking back their money. Masoom thinks what Meet did exactly and she informs it to her brother. Masoom says the staffs are saying Investors looked happy while leaving. Meet Ahlawat assumes Meet gave back their money thus they were happy. Meet says she will soon do every possible thing which can bring profit to the company.
Meet Ahlawat claps in front of Meet and says he is happy that she followed his advise. Meet says he might feel sad knowing she didn't touch the money or the locker. The money is still there. Meet Ahlawat tells her not to lie as he only told her to do so. He goes forward and she moves backward. He falls on her and places a kiss on her cheek by mistake. They feel awkward and Meet says she didn't learn to hurt her own self respect so she did what was good for them. She solved the problem. Meet Ahlawat doesn't trust her and she replies she can't change his thinking about her. If he doesn't want to trust her it's his problem. Meet Ahlawat calls her liar and Raj says how dare he? Raj is about to slap him but Meet stops Raj. Meet says he already gave the biggest punishment to his son.
Neelam asks for the locker keys from Meet as she wants to check the money in the locker. Raj says let them satisfy their ego. Meet gives Neelam the key and the latter checks the locker. But everyone sees the locker is empty. Barfi says it clearly shows Meet lied to them and Meet Ahlawat is right about her. Barfi accuses Meet of theft and Raj says he doesn't have any doubt on his bahubeta. People who doubt her will need explanations. Barfi laughs saying Meet has the keys and Meet Ahlawat says he didn't take the money too. Barfi says its proved Meet is the thief. Meet shuts her up saying she won't hear her taunts as she is not the culprit.
Meet says Raj trusts her and that's enough for her. She vows to expose the culprit winhin 48 hours. Barfi says if she fails then what will she do? Will she leave the position Raj gave her? She doesn't have the status to handle such a huge responsibility. People should know she is thief. Scene shifts to Meet bringing Ganpati idol in the mansion. Babita thinks Meet Ahlawat used to bring the idol every year but since Raj cut ties with him everything has changed. Meet falters while holding the idol and Meet Ahlawat helps her by saving it from falling. They both look at each other.
Episode ends
Also See: