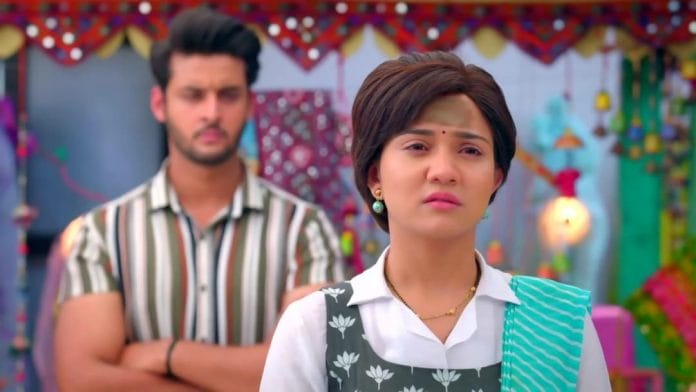 Meet 16th September 2022 Written Update On TellyExpress.com
The episode starts with Neelam going to Meet Ahlawat. She says he seems upset nowadays for office problems. She tells him to share his worries with her. Though she doesn't have knowledge of business but she will listen to him and she knows how Meet only stole the money and now acting innocent. Meet Ahlawat says she is right, there are many questions in his mind but he can't believe Meet can do this. He used to support her decision and he knows she will go to any extent to prove herself innocent. He explains how adamant Meet is and then they go to attend the aarti.
Meet says now they have some leisure time so they can play game. Barfi laughs at her saying she doesn't have enough time left so she should work on proving herself innocent instead of playing games. Meet says she still has one day, Barfi doesn't need to worry. Barfi says she wasted her time by searching the room of others. Meet says she will collect proofs and will prove Barfi wrong. Barfi says if Meet succeeds then she will go down on her knee and will apologise to Meet for accusing her. Meet says she will wait for that.
Masoom looks for Hosiyar and asks for coffee. She finds 2000 rupees note and takes it. Hosiyar and Dadi follow Masoom to see where she is hiding the money, then they will get the stolen money too. Masoom closes the door and says she will keep the note under her pillow and then she will dream of money. She will get rich soon. Hosiyar notices that and says Masoom herself is dreaming of getting rich, she can't steal the money. Dadi says Meet doesn't have enough time, how she will get proofs. Meet blindfolds all the family members and tells them the game rules that they all have to guess the things which will be given to them.
After four rounds Meet says this is the fifth and last round. Whoever will guess the last thing right he/she will be the winner. In flashback, Meet shows Meet Ahlawat's coat to Raj and tells him about her plan to catch the thief. Raj says he feels bad that someone in their family wants to trouble Meet. Meet says Meet Ahlawat keeps the keys inside his coat pocket which he and she know. But since the thief stole it, he will have the idea too. The thief will touch the pocket to check the key and will get exposed. Raj says what if the thief smartly doesn't touch the pocket?
Meet says they will notice the facial expressions of everyone and the thief can't hide it for long. Flashback ends. Meet gives the coat to each and everyone. She gives it to Meet Ahlawat and he drops it. She and he both try to pick the coat up and their heads bump into each other. Meet gives the coat to Barfi and observes her gestures. Meet declares Babita as the winner of the game. Babita gets happy. As a reward Babita wants Raj to take rest. The security guard says a kid threw stone at the honey bee nest and the bees are flying everywhere. They should close all the windows and doors. Meet Ahlawat goes to close the door and some bees bite him, he feels pain and everyone gets worried.
Neelam and Meet go towards Meet Ahlawat. Babita tells them to bring an iron. Neelam and Meet go to take it, Neelam pushes away Meet and takes out the key from the coat pocket hurriedly and it shocks Meet. Meet Ahlawat drinks water after being stable. He says he will go for Visarjan and he is fine. Meet questions Neelam that how does she know where is the key? It means she is the thief. Neelam gets tensed and leaves.
Episode ends
Also See: