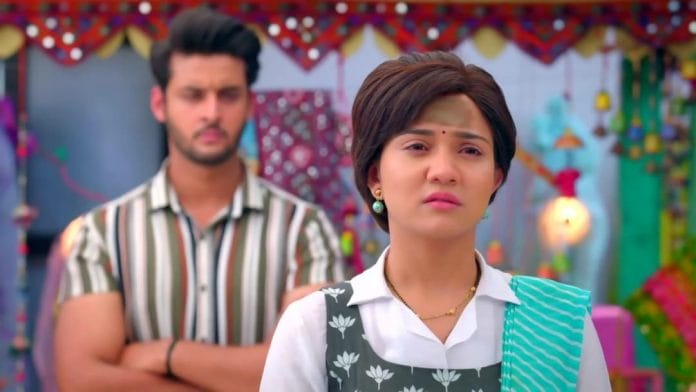 Meet 7th June 2022 Written Update On TellyExpress.com
The episode starts with Meet Babita asking Shanty to give some solutions so that Meet feels like a mother and acts responsible. She should become proper daughter in law. Shanty gives shocking expression and his men tell her that it's a serious problem but Guruji will provide a solution. They give some rice and daal to Babita saying Meet has to make hotch-potch using these special ingredients, she will make it alone and noone can help her. By this her problem will be resolved and there will be changes in her attitude. Babita obeys him and says she will tell Meet to follow the exact process. She leaves and Shanty feels relaxed thinking now noone can save Meet.
Meet wakes up at night and calls her husband to tell him that baby is kicking in her womb. Meet Ahlawat feels that and touches her belly. They get excited and see the movement. He says soon the baby girl will come out and they will hold her in their harms. Meet asks him how is he sure it's baby girl only? Meet Ahlawat says his instinct told him so. Meet goes back to sleep and he kisses her forehead. Babita instructs Meet to put the ingredients in the cooker and after three whistles she will turn the flame off. Babita says Guruji strictly said they can't help Meet so she is bound to do that. Meet will give the first offering to Guruji only after making the hotch-potch. Meet says but how by making hotch-potch her characteristics will change? Babita says science and belief both are different. Babita tells Meet to call her if she needs to know anything.
Meet tries to close the cooker but fails to do that. Babita hears noise and comes to the kitchen. She helps Meet in closing the cooker. Babita goes to hall and Meet waits for the whistles. Shanty's recruit observes Meet and Shanty says that the chemicals in the ingredients will now cause blast in the cooker. He counts from ten to one. Meet sees some unusual sound from the cooker and the blast happens. Babita gets shocked and comes to the kitchen with Ragini. They panic seeing the condition of the kitchen. Babita sees Meet's legs and gets stunned.
Meet gets up after removing the big drum from her upper body. She says she covered herself with it to protect herself and the baby. But she has no idea how the blast happened. Babita says Meet should have made the hotch-potch with immense faith but she did something wrong for sure otherwise this accident wouldn't have happened. Because of her carelessness they would have lost the heir of Ahlawats. Ragini calms Babita down and Meet thanks her for doing that. Ragini says Meet will become a great mother. Meet requests her not to inform Meet Ahlawat regarding this, he will be tensed.
Shanty learns that Meet saved herself and he loses his cool. He tries to attack his men and breaks a photoframe with a broken piece of glass. He says he doesn't have enough time left, he has to return back to the hospital. Meet comes with a bowl of hotch-potch and thinks Guruji will accept it or not. Shanty destroys the photoframe and Meet comes in. He somehow hides it behind him and his hand gets injured due to the broken glass.
Meet gives the hotch-potch to his recruit and they send her back. Shanty screams in pain and Meet feels like it's Shanty's painful voice. She comes back to check again and Shanty's recruit gives excuse of knee pain. Meet gets doubtful and leaves. Shanty controls his scream and his hand bleeds. Meet calls the constable seeing his text and learns that Shanty ran away from the hospital and he might plan to attack her. She should be careful. Meet thanks him for giving the information.
Episode ends
Also See: