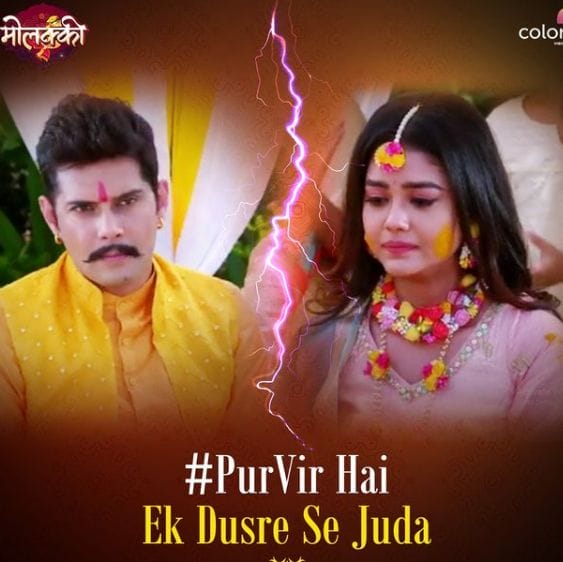 Molkki 4th February 2022 Written Update on TellyExpress.com
Episode begins with Purvi finds Renu's nuptial chain in Gajraj's room and she wonders that why he has it. She starts searching the room and finds evidence that proves that Satyam is alive after bomb blast and his face got burnt in the accident. She realises that Satyam is disguised as Gajraj. She wonders that why he is acting like he loves her. And what if he is planning to trap her again. She says that she has to prove that Satyam is Gajraj and also she has to make sure that he gets punished for killing Renu. Gajraj comes there and reminds her that Doctor told her to take rest.
He tells her that she would not have taken her medicine too. She remains silent. He says that she must be thinking that he didn't inform about her to her family but he send his men to Virendra to inform about her. He lies to her that Virendra don't care about her now because she is working for him going against Virendra.
She thinks that she knows that he is lying and he would not have let Virendra enter the palace. He asks her to not stress about anything and get some rest. She lays down on the bed. He asks her to press the bell if she needs anything then. She thanks him for taking care of her. He leaves the room. She tells herself that she will expose Gajraj and she won't leave the palace until she finds evidence against him.
Gajraj talks to Renu's picture and tells her that he fall for Purvi. He says that he would not have killed her but that's fine because if she was alive then she won't let him get Purvi. Nurse hears that and leaves from there. He drinks alcohol and goes to the lawn to share alcohol with Virendra. He asks Security guard about Virendra. Security guard realises that Virendra escaped and informs Gajraj that he will find Virendra.
After some time, Nurse calls Gajraj as Satyam and asks him that how can he forget her. He asks her that who is Satyam. She asks him to not act in front of her. She informs him that it's her who used to take care of him when he was admitted in the hospital after bomb blast. She says that she can make sure that he ends up in jail for killing Renu. She demands 10 lakhs from him to not tell the truth to Police. He tells her that he is even ready to give 20 lakhs but what if she betrays him. She tells him that he don't have any other choice than trusting her.
Virendra sneaks into the palace and sees Purvi sleeping. He thinks that she can act like she hates him but he can't live in this world without her. He decides to leave before anyone sees him. Gajraj beats Nurse up and holds her at gunpoint. Virendra asks him to drop the gun.
Nurse runs from there using that chance. Virendra asks Gajraj that which secret Nurse knows about him. Gajraj tells him that this palace and Purvi belongs to him now. Virendra beats him up. Purvi comes there and stops Virendra. She defends Gajraj.
Episode ends.
Click to read: