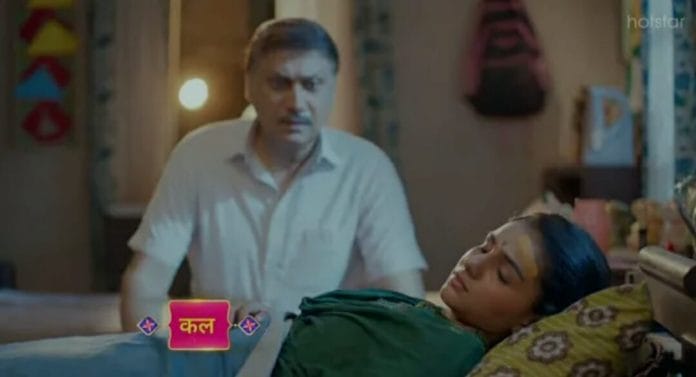 Na Umra Ki Seema Ho Spoilers, Upcoming Story, Latest Gossip , Future Story, Latest News and Upcoming Twist on tellyexpress.com
Na Umra ki Seema Ho is the newly launched show of Star Bharath. This show is about Vidhi, a young woman who falls in love with a middle-aged tycoon, Devratha! Now, the series focuses on Bimla requests Hariprasad to fulfil Vidhi's wish
In the previous episode we saw: Pramod and Urmila talked with the doctor. He said to them that Vidhi was affected by rare disease. She won't survive more then 3 months. Later, Bimla open up with Vidhi. Later, Bimla asked Vidhi to marry Dev. She refused to do like that reasoning she won't hurt her father. She will never bring shame to her father.
She told her she was ready to live with them lifelong until dad agreed to her marriage. Bimla hugged her in happiness. Later, Pramod said to Hariprasad Vidhi's report came.
Bimla asked Urmila what happened to Vidhi? What's saying in this report. Urmila told her that Vidhi's state is critical. She only has 3 months left. Bimla shared her grief with Milapini mom.
In the upcoming episode viewers will see; Bimla will ask Hariprasad what will they do? Hariprasad will advise her to hide this truth from Vidhi. Vidhi will ask them why did they turns silent seeing her. Later, Hariprasad will share with Bimla that he will fulfill all her happiness. Bimla will tell him Dev is her happiness.
What will happen next? Will Vidhi find out the truth? When will Dev marry Vidhi?
The upcoming episode will answer all our questions and stay in tune with our space for more updates.