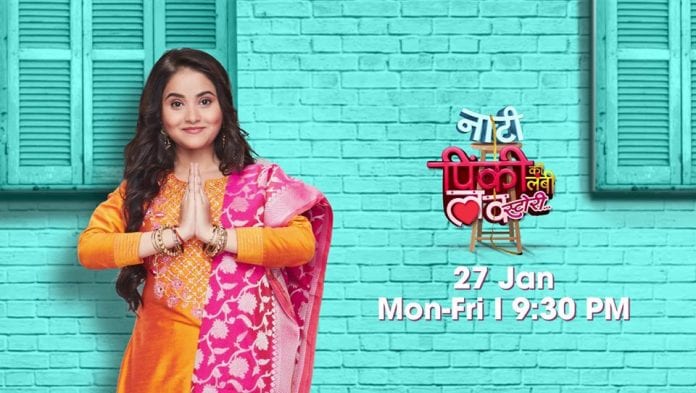 Naati Pinky Ki Lambi Love Story 14th August 2020 Written Update on TellyExpress.com
Episode starts with Nalini consoles Pinky. Later Pinky goes to meet Vikas, he gives her juice and asks her to not wear any shoes. Ram says he find the correct one and we have to know Pinky opinion. Asha takes pics of Pinky and Vikas.
Vikas asks her to tell him if she wants to say something because he can't bear another break in his married life. Pinky thinks she have to hide truth from Vikas for Nandu.
Amma says to Kalyani that she will expose Arjun fake Marriage with Imarti to everyone. Vikas teaches Yoga to Ram and his family.
Amma asks why bahu didn't reached to home. Someone knocks the door, Arjun opens the door and gets surprised seeing Seema and ask you here. Seema says you only called me here to collect pics. Amma acts sweetly. Seema questions didn't you tell that your mom is staying with you. Now you guys can get Nandu very soon. Amma says Bahu come outside. Than they heard sound and goes inside, Pinky hurriedly changes her attire. Amma asks how room is messy near window. Imarti manages saying it skipped by mistake. Next Amma asks Seema to come in the evening so they can meet Imarti father toowhile having tea. Imarti gets shocked. Seema agrees.
Asha waits at Pinky door room to give her clothes, Nalini takes them saying Pinky is taking rest because of headache. Once Seema leaves Arjun asks why are you doing this. Amma says to keep Nandu away from your life that's what you think right? I want her to see our family time so we can get Nandu quickly, you can never understand me. Arjun says you're the one who stayed away from me at the beginning than only I started making friends to end my lonliness, you just want me to study but never think what I needed. Amma says what you make to feel me proud. Arjun says don't show your fake love drama to me, Amma brings Payal and says I saved this one for you. Arjun leaves asking her to stop the emotional drama.
Precap – Imarti says she can't bring her dad.