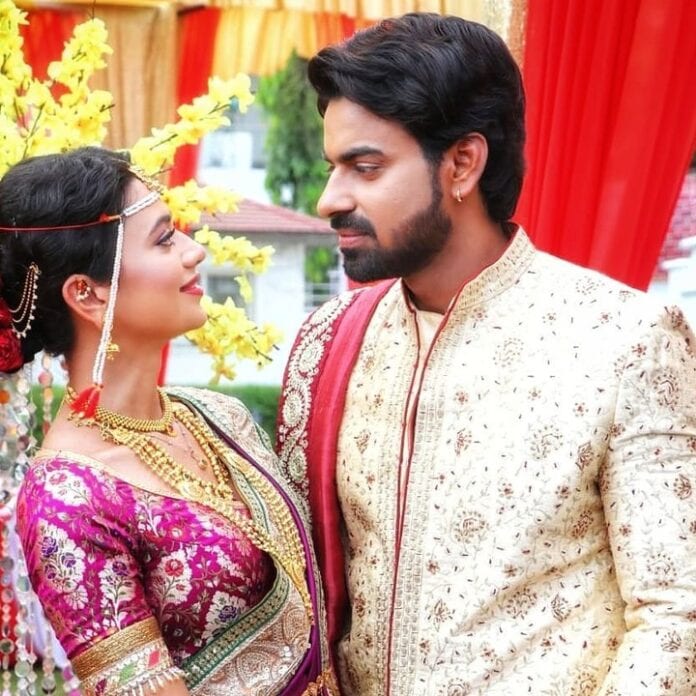 Namak Issk Ka 23rd April 2021 Written Update on TellyExpress.com
The episode starts with Gunjan telling Yug we are husband and wife in true sense now. Kahani tells she warned Yug in advance. Yug tells he did not drink the milk Gunjan brought for him last night and flashback shows him not drinking it. Gunjan tells if I tell the world everyone will believe me. Yug tells the world believes in evidence and I have evidence. Yug shows recording of last night in his phone in which he tells Gunjan I am not well and falls asleep. The flashback shows Gunjan telling everyone will believe me even if I tell lie. Gunjan breaks Yug's phone and leaves from there. Yug tells Gunjan you want to build a relation with me by blackmailing. Gunja leaves from there saying atleast I want to build a relationship.
Kahani tells Yug she cannot share you with anyone. Yug tells our names are one now. Kahani tells I don't like hiding our relation anymore. Yug tells it is time to take this problem to mother now and he brings Kahani to Saroj. Yug tells Saroj I will say clearly, I love Kahani and I married her with all the rituals. Kahani tells Saroj to give her a chance and she will prove herself a good daughter-in-law. Saroj slaps Yug and tells you left Gunjan a lot ago,I was waiting for you to loose your shame and come to inform about this. Yug tells he is speaking just the truth and tells he loves Kahani and she can give him any punishment she wants but cannot seperate him from her.
Saroj asks Yug did you forget my pain which I got due to a dancer like her? Saroj tells I am being punished for being wife and now I will be punished for being a mother. Yug tells Kahani this is between me and mother so you don't speak in between. Saroj tells you broke my trust and belief and brought me on my knees. Saroj asks Yug what are you going to tell Gunjan? Saroj tell your dream is an insult that will ruin our entire family. Saroj begs Yug not to repeat the mistake his father.
Yug tells there is only one similarity between Suraiya and Kahani that is their profession. Yug tells why are you punishing Kahani for that lady's mistake? Yug tells father promised his wife that he won't leave her and I made the same promise to my wife. Father broke his promise but I won't break my promise because I have learnt it from you. Yug tells I can give my heart but I won't give Kahani and now I am going to tell this truth to everyone. Saroj tells I cannot give you my blessings but I will give you a choice,take Kahani with you and leave from here.
Saroj tells she will give all his property to Gunjan. Saroj tells you can have Kahani but you will loose your mother. She tells I learned to leave without my husband and now she will learn to leave without her son. Saroj tells Yug you can keep both your heart and Kahani but forget your relation with your mother. Saroj tells you will watch my dead face tomorrow if you cannot do this and leaves from there telling Yug to make his decision. The episode end with Kahani hugging Yug.
Click to read: