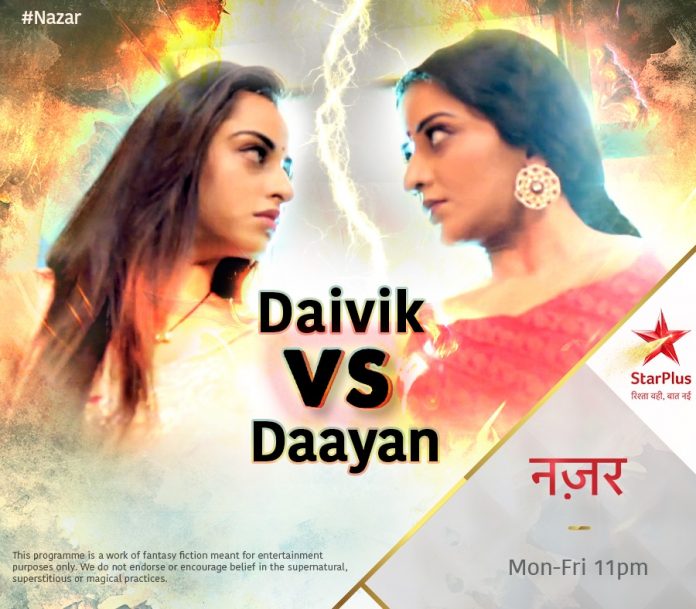 The episode starts with the family dancing and celebrating Ansh birthday. Ansh and Piya feeds Adi and Pari simultaneously and persuades them. They gets shocked seeing Mohana entering the house. Vedashree, Shekhar, Ansh and Piya are in the room while Chaitali and Avinash are with Mohana.
They wonder why did she appear all of a sudden. Ansh wonders if she came for attacking them but Piya says that there's some other reason for it. They hear Chaitali screams and gets ready to attack Mohana. But to their shock they find Mohana dancing with the kids. She asks them to join too as its Ansh's birthday. Piya asks what's her new drama and why's she here. Mohana says that she has a good news and that's she's going to die.
They gets shocked hearing it. She says about reading stars and that someone is coming to kill her and take her Ayaan powers. She says that she wants their help with it. Ansh denies helping her but Mohana says that it's not only her they are going to attack but also her whole family including Vedashree, Ansh and the kids too shocking them. They denies believing her and asks her to leave but Vedashree asks Ansh to let Mohana complete what she wants to say.
Ansh asks her how could they trust Mohana and recalls the times she cheated them. A smoke appears which happens to be Kora indicating Mohana's death.
Naman asks Saanvi for her decision but she asks him to leave with her as Nishant has called them for some important work. They both go to Pratimayan's cave with weapons and meets Nishant.
Nishant shows them the whole cave burning and gets shocked. They think that someone is trying to stop them from getting answers as they very well know that they get answers from Pratimayan. They go to Uttar jeel but it's water too gets drained making ot impossible for them to find answers. Nishant calls Piya and informs the same.
Piya stops Mohana who says that next they are coming for her followed by Chutki, Ansh and the kids. Piya let's her stay in the house but warns her that they will be watching her constant. She shows her the room and asks her not to come out of it. Once Mohana enters the room she reveals that she don't want to die and thus will use the family in order to defeat them and may even sacrifice them to save herself.

All of a sudden Ansh starts screaming and few big cuts appear on his back. They all gets worried. Piya treats Ansh but it doesn't get cured. Vedashree worries for her family. Nishant comes there and informs everyone about the challenger stopping them from finding clues.
They see the Kora again pointing towards the moon. They realize that the next day chaturdashi and that's when the challenger going to attack them. Mohana asks Piya to join hands with her but Ansh clearly denies it.

Precap : Piya hatches a plan while Mohana smirks.