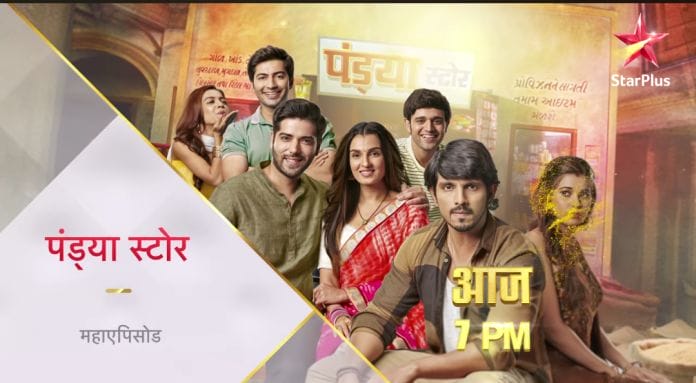 Pandya Store 21st November 2022 Written Update on TellyExpress.com
The episode starts with Shweta watching the CCTV footage of the hospital. Rishita fails to see Shweta on the video footage, but she sees Dhara talking to a doctor and learns that he is doctor Desai. She goes to meet the doctor Desai. Meanwhile, Shweta learns Rishita's plan and foils it. She meets doctor Desai before Rishita. She is wearing a mask to hide her face. She lies to doctor Desai that her sister is critical and asks him to check. She pours oil on the floor. The doctor Desai slips and falls. His head hit the flower pot and he faint.
Gautam takes Dhara and Raavi to his friends house. He asks them to take care of themselves and leaves. At the hospital, Rishita goes to the doctor Desai's cabin and finds it empty. Raavi cries remembering Shiva's allegations. She bursts into tears. She laments about Shiva not understanding her love and putting such a cheap allegation on her. Dhara assures Raavi that very soon they will return to Pandya's house with all respect. Dhara goes to get juice for Raavi from the market.
There, Rishita asks the nurse at the receptionist where she can meet the doctor Desai. The nurse says that the doctor Desai got an accident. he is critical and he is getting operated. Shweta is watching, this hiding. Rishita asks the nurse to give the doctor's address, so that she can meet him at home after his operation. The nurse asks Rishita to leave and threatens to call the security. Rishita agrees to leave. Rishita sees a shadow behind a pillar and goes to check. Shweta hides. Rishita doesn't find anyone and leaves. Shweta barges that she is smarter than Rishita.
Gautam returns home. He sees Shiva and recalls Shiva accusing Raavi of abortion. Gautam grabs Shiva by his collar and lashes out at him for throwing Raavi out of the house without knowing the complete truth. He says that he isn't the Shiva he knows. Krish arrives there and separates Gautam from Shiva. Gautam says that he doesn't want to see Shiva's face. Shiva says that Gautam refuses to stay by the truth as he is against Dhara. He says that his relationship with everyone broke. Krish says that Raavi can't be wrong. Shiva asks Krish not to interfere in his matter. Krish says that Shiva is his brother and refuses to leave his side. He tries to hug him. Shiva stops him and angrily walks away.
Shweta's mom is walking on the road, thinking about Shweta's words. She thinks that Dhara isn't dishonest, she can't misuse Chiku's money. She sees Dhara coming with Chiku. She asks Dhara what she's doing in the market with Chiku. Dhara tells that there is some misunderstanding in the family about Raavi. Raavi had to leave the house. She can't leave Raavi alone in this condition, so she also left the house along with her. Shweta's mom takes Dhara home as Shweta's dad is worried about Chiku.
Suman sees the empty house and recalls the happy moments they spend as a family. She cries. Krish sees this. Shweta returns home. Krish phones Shweta to know where she is. Krish sees Shweta at the door step and asks where she has gone. Shweta lies that she went to get medicine. She asks why he cares when he didn't become her friend. Krish agrees to become her friend. He asks why she got medicine. Shweta lies that she got headache tablet. Krish thanks Shweta for sharing her problem with him. He says that he doesn't want any misunderstanding between them as there is already tension going in the family. He asks Shweta to take care of Suman till Rishita returns home. Shweta immediately agrees which surprises Krish.
Shiva is walking on the road recalling Dhara and Gautam's words. He reads a poster about a boxing competition against some Surendra Jakhad who is a most dangerous fighter and the prize money is 5,000. Shiva decides to take fight against Surendra.
The episode ends.
Precap: Dhara sees the photo of Nithin with Shweta in the album and asks Shweta's mom who he is. Shweta's mom says that he is Nithin, Shweta's old friend. Dhara is shocked to learn this. Rishita says to Raavi that doctor Nithin with whom she talked was scared. Dhara says that he lied to them that Raavi is pregnant. Dhara adds that he is Shweta's old friend. Dhara says that Shweta trapped them till now, but hereafter they will trap her.
Click to read