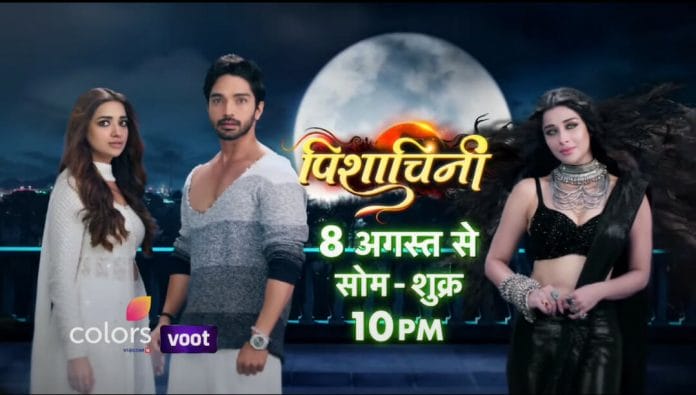 Pishachini 13th September 2022 Written Update on TellyExpress.com
The episode starts with Rani finding Rocky and looking towards the balcony. She doesn't find anyone. Meanwhile, Sapna knocks at the washroom door. As Rani doesn't open the door, Sapna opens the door and goes in, followed by Shikha and Babli. They find Rani crying. Shikha takes Rani from there. Sapna feels bad for Rani. Babli asks if she thinks that Rani accused Rani just because she loves Rocky. Sapna says that she doesn't know about it, but they should make sure she doesn't have any false hope regarding Rocky.
Pavitra lights diya in front of God and prays. She asks God to show her way to expose Rani's truth before Rocky. On the other hand, Rani completely removes Shika's mark from her cheek. Rani says that it's a gift for her. Shikha is overjoyed. Rani laughs. Vidya passes by that side. She hears Rani's laugh and peeks inside the room. She's shocked to see Rani laughing madly. Suddenly, she finds Rani near the glass door. She gets scared and leaves.
Later, Vidya says to Sanchit about Rani laughing. Sanchit refuses to believe it. Vidya says that Pavitra's questions about Rani are right. She further says that Himani and her parents died in the car accident while Rani escaped with mild injuries. Rocky hears this. He asks Vidya if she was sure that Rani was laughing. Vidya confirms this. She adds that someone else was also in the room, but she couldn't see it. She says that Rani's brother isn't there and wonders whom she was talking with. Rocky remembers Pavitra's words about Rani being Pishachini. Meanwhile, Pavitra reads her grandfather's diary to find a way to expose Rani. She finds again a secret page in which her grandfather wrote about Pishachini's weakness. Pavitra phones Rocky.
In the morning, Rocky comes to Rani's room with breakfast for her. Rani gets tensed. Pavitra watches this hiding A FB shows. Pavitra says to Rocky that Pishachini can't eat any food. She convinces Rocky to feed Rani anyhow at least one bite. Rocky asks what will happen if she eats. Pavitra says that she doesn't, but not eating food is her weakness. She reminds Rocky that he agreed to give her a chance to prove herself right. FB ends.
Rocky urges Rani to have food and states that he hasn't seen her eating ever since she returned. He asks when she last had food. Rani recalls a FB. Pishachini tries to eat food, but she's not able. The Pishaach appears and reminds Pishachini that she's not human anymore, so she can't eat food. FB ends. Rani refuses to eat. Rocky insists and tries to feed a bite to Rani. Suddenly, they hear a dhol sound. Rani uses this opportunity and goes downstairs, followed by Rocky. Pavitra also arrive there. They find some people playing dhol. Rocky asks Sapna what it is. Sapna asks if she can finalize them. Rocky asks why. Babli says that there are only three days left. Rocky asks what it will be after three days. Sudhakar says that it's Rocky and Rani's marriage. Sapna says that she doesn't want to postpone the marriage as she wants Rani to be happy and her mother's last wish is also to see her in a bridal dress. Sudhakar says that so they have decided to perform their wedding after three days.
Sanchit also supports this decision. He says that he will be happy if he is happy. Rocky asks if Rani is ready for marriage after losing her family. He asks if they asked Rani. Sapna says no and adds that she is sure Rani won't deny it. Rani puts up an emotional act. She agrees to marry Rocky, stating that it's her mom's last wish. Vidya asks if Rocky wants to marry Rani. Shikha reminds Vidya that Rocky said yes to marry Rani in front of the family. Rocky stumbles to say that he isn't ready for the marriage. Sudhakar intervenes and asks Rocky to get ready for the wedding. Sapna feeds sweets to Rani to celebrate it. Pavitra and Rocky are shocked when Rani eats the sweet. Pavitra wonders how it's possible. Rani runs from there pretending to be emotional.
Rani is in Pishachini form and is vomiting the sweets she ate. Pavitra clicks her picture. Pishachini angrily looks at Pavitra while she looks at Pishachini with a smile of victory.
The episode ends.
Click to read