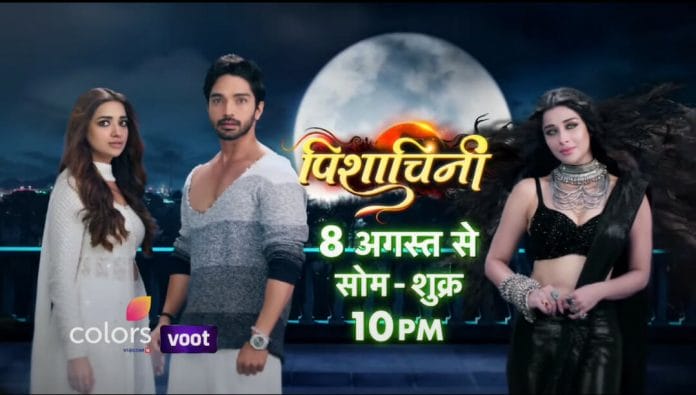 Pishachini 16th September 2022 Written Update on TellyExpress.com
The episode starts with Pratik and Amrita assisting Rani. Amrita assures Rani that Pavitra's chapter will end at tonight's sangeet ceremony. Rani appreciates Amrita and says that she will dance whole heartedly in her Sangeet like she never danced in the last 200 years as she is going to get married. She laughs. Pratik and Amrita also laugh. Maddy looks horrified when a green light comes from the tree and the tree branches drag Vikas' body into it. Meanwhile, Rocky is in his room remembering about Pavitra. The green light flashes on his face. He looks through the window and sees a bright green light coming from the tree which is located on the old mansion that's called Pishachini's house. He wonders what's happening there.
Pavitra wonders what Pishachini is up to. She killed Pratik and Amrita, but why she called them there. She recalls Pishachini saying to her that she's alone against her. Pavitra says that Dadaji is with her and realizes that he hasn't come out of his room since the morning. She remembers telling Pratik and Amrita that Dadaji got well. She worries whether Rani did something with Dadaji.
Sapna, Bubli and Sudhakar welcome the guest. Meanwhile, Rocky comes to the old mansion to check. He finds the place dark and wonders what that light was. He hears a watch beeping sound and sees Maddy playing with his wrist watch. Pavitra knocks at Dadaji's room door, asking him to open the door. Sapna sees Pavitra and says to her that Dadaji must be resting. Pavitra says that he never locks the room. Just then, Amrita and Pratik open the room door. They say that Dadaji is resting and they are looking after him. Pavitra finds something fishy and insists on seeing Dadaji. Sapna says that the Sangeet ceremony is going to start, so she asks Pavitra to go and get ready.
Rocky asks Maddy who he is, what he is doing in this restricted area. Maddy shows his watch to Rocky. He says that he is living here. Rocky asks him questions about the weird light coming from the tree. Maddy says that he didn't do anything, but the tree did it by itself. Rocky asks what he is blabbering about. He is shocked when he doesn't find Maddy the next second. He wonders if he was hallucinating. On the other hand, Pavitra finds Dadaji's wheelchair in the hall and shows it to Sapna. But Shikha takes it away before Sapna can see it. Sapna requests Pavitra not to do anything which will spoil Rocky and Rani's sangeet ceremony. Pavitra agrees and leaves.
Rocky and Rani's Sangeet ceremony begins. Rocky and Rani dance to the song kesariya. Pavitra watches this with a broken heart. Rocky sees Pavitra in the place of Rani and imagines dancing with her. Pratik and Amrita arrive. Sapna asks them about Dadaji. Pratik says that Dadaji is sleeping. Pavitra sees Pratik and Amrita. She thinks that Dadaji must be alone in the room. She goes to Dadaji's room to talk to him. Pavitra removes the quilt and is shocked to find a toy in the place of Dadaji.
Rocky gives some excuse to Rani and goes aside. Vidya asks him by a gesture where he is going. Rocky says that he feels thirsty, so he goes to drink something. Rocky notices the watch in Vikas' photo and realizes that Maddy has the same watch. He recalls Pavitra's words and wonders if Pavitra wasn't right about Rani being Pishachini.
Pavitra is looking for Dadaji and wonders where Rani hid Dadaji. She tries to find any clue to find Dadaji's whereabouts. Pavitra passes near the photo frame in which Dadaji is captured. She notices that Dadaji's photo closes and opens his eyes and is shocked to learn that Rani captured Dadaji inside that photo frame. She assures Dadaji to find a way to release him and leaves.
Rocky stops Pavitra. The latter cries. Rocky asks what happened and says that she can't see her in tears. Pavitra cries and laments about Rocky not believing her. She tells Rocky that Dadaji isn't in his room. Rocky asks what she means. Pavitra takes Rocky to Dadaji's room to prove her words. Rocky is shocked not to find Dadaji in his room. Pavitra takes Rocky near Dadaji's photo frame and says that Rani captured Dadaji in that photo. Rocky refuses to believe Pavitra. The latter asks Dadaji to close and open his eyes to make him believe. Just then, Dadaji arrives there in the wheelchair. Pavitra looks on stunned.
The episode ends.
Click to read