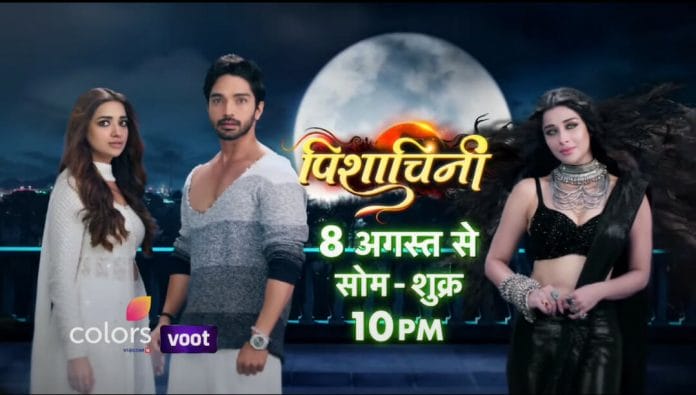 Pishachini 15th September 2022 Written Update on TellyExpress.com
The episode starts with Pratik and Amrita making Pavitra believe that they're there to help her against Pishachini . Pavitra gets suspicious when Pratik mentions making her leave. Meanwhile, Sapna, Bulbul and Sudhakar are busy decorating the house for the wedding. They call out to Shikha. The latter is busy with her phone and leaves, ignoring them, which surprises the three. Here Pratik says to Pavitra that he means that Pavitra should leave now, as no one should know the real reason for their visit except the three of them. Pavitra says not three, but four. Just then, Nikita calls Pavitra. Pavitra receives the call.
Pratik and Amrita transform into Pishaach attire and are ready to attack Pavitra. The latter can't hear properly what Nikita is saying due to the bad network. Pratik asks who is the fourth person who knows Rani's truth. Meanwhile, Dadaji doesn't find anything related to the key in Rani's room and wonders why the priest placed it in that potli. Here Pavitra says that Dadaji is the fourth person. She adds that Rani paralyzed Dadaji using her magical powers, but he got well. She only knows the truth, so that Rani doesn't know about it. Amrita says that it's good she told her. She asks Pavitra to leave and says that they will come later. Pavitra leaves. Pratik and Amrita decide to tell Rani about Dadaji.
Rani is overjoyed that she will get married to Rocky soon and will turn the Rajputs into pishaach. She says that she will become Maga-Pishachini after that and laughs. Pratik blows some black smoke which reaches Pishachini. The latter looks angrily. She finds Dadaji in her room and says that he must be plotting against her. Dadaji gets scared and leaves from there. Pishachini smiles.
Pavitra bumps into a worker and he drops a paint can. The paint spreads on the soil. He apologizes to her and leaves. Pavitra recalls Rocky lifting her in his arms so that her feet don't touch the mud water and gets emotional. Just then, Rocky gets there. He lifts Pavitra in his arms. He crosses the paint and puts her down. He leaves without addressing a word to her. Pavitra looks on feeling emotionally. Dadaji is trying to escape Pishachini, who is following him by moving fast in his wheelchair. Rocky is lost in Pavitra's thoughts. Sanchit and Vidya come there.
Sanchit asks Rocky in which color the wedding Mandap should be decorated. Rocky says blue, which is Pavitra's favorite color. He realizes what he had said and says to Sanchit that he will tell him after asking Rani. Sanchit says to Rocky that he is there if he wants to open his heart. Just then, Vidya notices Dadaji going speedily in his wheelchair. She goes to find Dadaji. Rocky goes after Vidya.
Dadaji's wheelchair stops hitting a pillar. The key falls on the ground. Rani appears there. She says that she's aware that he got well. Dadaji runs from there. Rani appears in front of him and asks him to show what he is hiding in his hand. Dadaji refuses. Rani uses her magical powers and captures Dadaji inside his photo frame. She hears footsteps. She lies on the bed covering herself with the quilt. Rocky and Vidya arrive there. They think Dadaji is sleeping and leave. Pishachini wonders what Dadaji was hiding in his hand. Meanwhile, Vidya finds the key and wonders whose key it is.
The family is happy to meet Pratik and Amrita. They welcome them inside the house. Pratik shows Amrita the main switch through the gesture. Meanwhile, Nikita phones Pavitra and says that Pratik and Amrita are no more. Pavitra is shocked to hear this and recalls her grandfather's words. The lights go off when Pratik and Amrita enter the house.
Pavitra is stunned to see Pratik and Amrita entering the house in their Pishach attire. The lights come back. Rani mocks Pavitra and reminds Pavitra of her vow to change the whole Rajputs' family into Pishaach. She says that she started with Pratik and Amrita and the next will be Rocky. Pavitra says that she won't let her win. Rani says that she can't do anything till now and adds that she is alone in this against her.
The episode ends.
Click to read