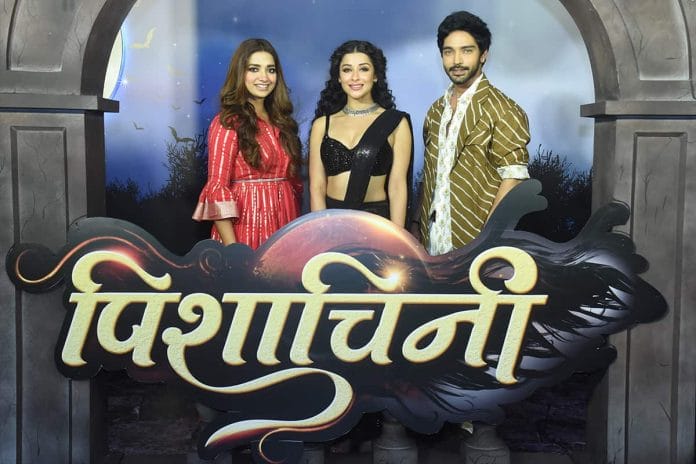 Pishachini 3rd November 2022 Written Update on TellyExpress.com
The episode starts with Rani running towards her child's cradle around which some holy threads are tied. As soon as Rani touches it, she gets thrown away. Rani asks him to remove those threads from the cradle. Rocky says that they will remove her baby, who hasn't been born yet, from the world. He places the cradle in front of the tree. Some branches come out of the tree and pull the cradle inside. Rani runs to the cradle and pulls it towards her. While Rani is trying to pull the cradle. Vidya takes out the box that she received from the anonymous writer. Vidya runs to Pavitra and Rocky and says that they have to throw the powder which is inside that box around the tree so that the tree binds to it whoever goes near it. The trio start to pour the powder around the tree. The cradle is pulled inside the tree by the branches. Rani asks Pavitra and Rocky where her baby is.
Suddenly, some branches come out of the tree and surround Rani. The branches bind Rani to the tree. Rani vows to kill everyone. She says that no power in the world can capture her forever. She shouts, asking where her baby is. Rocky shows the real cradle which has Rani's baby. Pavitra says that they can't kill any baby despite being the baby of Rani. She says that she just wanted to keep Rani away from the house and she succeeded in this. Now she can keep her baby with her. Pavitra signs Rocky. Rocky places the cradle in front of the tree. The branches bind the cradle to the tree. Rocky says that the tree kept them captured forever. Pavitra says that good has finally won over evil. She says that Rani has ended forever, so there's no more threat to the Rajputs' family. Rani shouts no. Veer sees this hiding. His eyes became blue. He says that Rani got captured. He laughs. He says Karma dot dot dot.
The Rajputs are shocked to learn that Prathik and Amrita are dead. Sapna and Sudhakar are angry with Rocky for hiding Pishachini's truth despite knowing it. Sapna regrets mistreating Pavitra, who was fighting with Pishachini, and feels ashamed. Shikha says that she also knows Pishachini's truth and confesses that she brought her to Barely, which shocks the Rajputs. Shikha says that she invited Pishachini inside the house. She made a deal with her and Pishachini removed her mark from her face. She says that she's responsible for whatever happened. She says that she put all of their lives at risk to get her mark removed from her face without thinking about its consequences. Sudhakar and Sapna start to shout at Shikha. Rocky calms them down and says that he will talk to Shikha. Rocky says to Shikha that Pishachini mesmerized all of them in every way. He was also about to marry him and she married Sanchit. Rocky says that Pishachini fooled everyone in their family except Pavitra. He says that Pavitra fought Pishachini alone despite the family treating her badly. Rocky says that he is alive because of Pavitra. The Rajputs apologize to Pavitra. Sapna asks Pavitra to forget the past and calls her and Sudhakar mummy and papa. Pavitra becomes emotional and calls them mummy, papa. The Rajputs share a group hug.
Vidya reveals that Pavitra is the granddaughter of the priest, Deendayal. Sudhakar says that now he can understand where Pavitra inherited their sanskaar despite being raised in abroad. Bubli scolds Vidya for hiding the truth from them. Rocky says that Dadaji knew about it. Sudhakar is surprised that Dadaji hid such a big truth from him. He asks if there's any other secret. He asks them to speak up.
Pavitra, Rocky and Vidya take the family to Dadaji's room. The family is shocked to find Dadaji captured inside a cage. Sudhakar tries to release him. But he gets scared when Dadaji shouts and tries to attack Sudhakar. Rocky discloses that Dadaji has become a Pishach, shocking everyone. Pavitra says that she captured Dadaji inside the cage without any other way. A FB shows. Pavitra comes to Dadaji, who is in pain due to the rudraaksh necklace that Pavitra tied around him. Pavitra asks Dadaji to search for the goodness inside him to become a human being again. Dadaji transforms into Pishach. He shouts that he isn't going to change and asks Pavitra to go away. He asks Pavitra to make a deal with him to become a Pishach like him.
Pavitra shouts no. Dadaji's takes human form. He says to Pavitra not to let anyone come near him as he could harm them. He asks Pavitra to capture them. The FB ends. Pavitra says to the family that Dadaji's one part which is stuck in Pishach's world, wants to come out of it. So he asked her to capture him in a cage so that he couldn't harm anyone. Rocky says that they used to give excuses to avoid them seeing Dadaji in this condition. Sudhakar goes near Dadaji. But he attacks him. Rocky calms down Dadaji. In the night, Rani vows to find a way to release herself. She adds that if there's no way, she will make her own way.
The episode ends.
Click to read