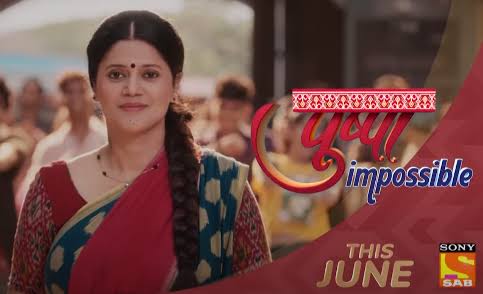 Pushpa Impossible 2nd November 2022 Written Update on TellyExpress.com
The episode starts with Dadi making it clear that she won't let the marriage happen without checking the kundali. Deepti and her parents were worried about Pushpa and her family. Sonal asks Deepti to call Ashwin and give a heads up. Deepti does as she says. Ashwin's family teases him seeing Deepti's call and Deepti says Ashwin about her Dadi and her request. Ashwin gets worried and shares it with his family. The thieves are serving drinks for the guests waiting for the right time for Pushpa and family to come out so that they can steal the jewels. On the other hand, Pushpa is showing her kids the jewels she has saved up all her life for her daughter in law. They are surprised with her choice and says that they never knew she had so much jewels with her. Pushpa expresses her wish to her children while Ashwin gets emotional. The thieves tries sneaking into the house but Pushpa takes them away.
Ashwin comes to Bapodhara's house and makes a request to him. He says that Prarthana is like a sister to him and he want everyone to be happily present in his wedding. He requests Bapodhara to let Prarthana attend his wedding his rituals. Bapodhara gets happy with his kind wordsa nd gives nod to his request. Ashwin leaves thanking him while Bapodhara says there is sky and earth difference between Ashwin and Chirag. Prarthana gets sad hearing it. Deepti is on her way to Pushpa's house with her family. Dai scolds Sonal for wearing black jewel during wedding and Sonal changes it. She sees black cat passing by and asks Manish to stop the car. She asks them to wait as it's a bad omen. They got frustrated with her blind beliefs.
Prarthana comes out getting ready and Bapodhara compliments her. Chirag gets happy seeing Prarthana coming down with her family. He thanks Ashwin and Ashwin teases him. Pushpa recalls about Ramesh's note about Sethji and Bapodhara visiting him in hospital. She takes Susheela aside and shares with her about the note and Bapodhara. Susheela also has no idea about it while Bapodhara overhears their talks and gets shocked. Pushpa decodes that Bapodhara is Sethji and shares it with Neelima. They decide to let it go for the time being. She praises Neelima's beauty which enhanced with her freedom. Neelima worries about society but Pushpa asks her not to. The thieves decide to wear the uniform in order to not get caught.
Varsha and Pranav acts good in front of Kaku and Kaku speaks with him about the divorce. Pranav says they have already filed divorce papers but Kaku suggests him to rethink about his decision. Pranav pretends like he will for the sake of Kaku and shows thumbs up to Varsha. Bapodhara wonders how did Pushpa got to know about all the truth and decides to do something so that his truth doesn't come out.
Precap : Dadi will ask Pushpa if she's the one who used her son to bring her grand daughter from flat to chawl. Everyone will feel embarrassed with her taunts. Dadai will refuse to proceed with the wedding until she checks the kundali. Everyone will get shocked and worried hearing it.
Click to read