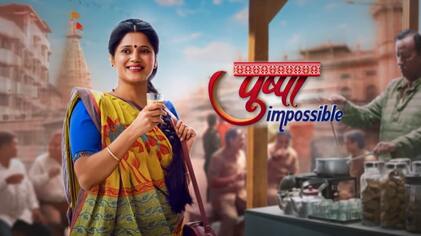 Pushpa Impossible 11th November 2023 Written Update on TellyExpress.com
The episode starts with Bapoadara saying to Pushpa that there is going to be voting in the Chawl by his party to see if all the people in the Chawl are in favour of him or not. Pushpa says to Bapodara that normally he wouldn't get her friend's votes with what she did. Pushpa says to Bapodara that she will make sure that he gets all the votes in her favour. Pushpa says to Bapodara that she will do this because Bapodara is her in-law.
Sarnayak announces that voting results came in Bapoadara's favour and he got all 78 votes. Sarnayak says to the MLA that Bapodara got 100% votes. The MLA hearing this praises Bapodara. Chirag introduces himself to the MLA as Bapodara's son-in-law. Pushpa comes forward and introduces herself as Bapodara-in-law to the MLA. Pushpa says Bapodara believes in women's empowerment but Bapoadara took away the keys to her workshop because he didn't have a room for the corporator office. MLA hearing this assures to Bapodara that he will give him a place for corporator's office and asks Bapodara to give back the keys to Pushpa as she will be troubled without her workshop. Bapodara without having a choice to say no gives the keys to Chirag. Chirag says to Bapoadara that he won the challenge.
Bapodara sees Juggal and Pushpa talking to each other. Hasmukh comes and says to Bapodara that the workshop is just a reason but it is a place for Juggal and Pushpa to spend time with each other.
Bapodara comes and says to Pushpa that she won the challenge by cheating. Bapodara says he will show his power once he becomes a corporator. Pushpa says she will see that later.
Chirag calls Binesh and requests to meet with him. Binesh agrees and sends him the address and time.
The next day, Pushpa and all her family members wish each other a happy new year. Pushpa's husband photo frame falls on the floor and breaks apart. Rash tries to pick it up and injures her hand. Pushpa thinks it's a bad omen.
Chirag wishes Happy New Year to Susheela. Bapodara asks Susheela to serve the food. Chirag hearing this says to Susheela that he will iron the kurta. Chirag asks Susheela to serve the food.
Chirag irons Bapodara's Kurta. Bapodara praises the food made by Chirag. Susheela says to Bapodara that this is made by Chirag. Bapodara stops eating the food. Chirag says he also ironed his Kurta. Bapoadara wrinkles his Kurta and leaves from there.
Bapodara after talking to Sarnayak understands that Pushpa and Sonal went to Nirmala. Bapodara thinks this is a conspiracy against her.
Episode ends.
Precap:- Juggal beats up Hasmukh. Bapodara asks Juggal why is he beating up Hasmukh. Hasmukh says there is an affair going on between Juggal and Pushpa. Bapodara says there will be no smoke without fire.
Click to read