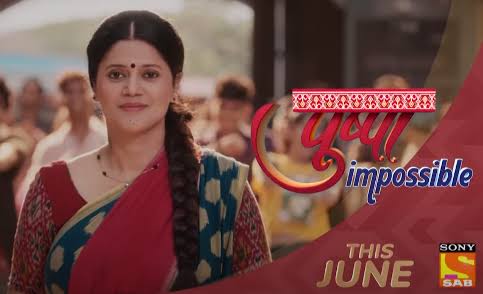 Pushpa Impossible 22nd November 2022 Written Update on TellyExpress.com
The episode starts with Rashi learning from her friend that Aryan is in very critical condition and gets scared. Sonla praises Pushpa for solving the biggest problem so easily while Pushpa advises her to take a step ahead so that Maasi also could take a step toward her. Sonal agrees with her while they both tease each other. Rashi is shivering in fear when Chirag calls her to play carrom. She refuses and gets irritated at her when Chirag touches her and finds that she's burning. He takes her in. Pushpa and Sonalcomes down from terrace when Bapodhara climbs up the stairs. He greets Sonal and thy get down. A guy came asking for Bapodhara referring him as Sethji and Pushpa guides him. She gets doubtful.

Deepti finds Rashi having fever of 102 degrees while Pushpa asks her to rest. She asks her not to go to school for the next day and leaves to make bed. Chirag takes Ashwin aside and says about Rashi being very much angry over something. He suspects something happened at school and Ashwin suggests to ask what's wrong the next day. Next day, Pushpa and other chawl woman complain to Narmada about water pipe repair and Narmada asks Bapodhara about it. He shows the water flowing through the pipe and says that he repaired it by night. Pushpa asks how would they know when he did it alla night and apologizes Narmada for wasting her time. Narmada says it's fine and leaves apologizing Bapodhara. Bapodhra gives money to plumber who also calls him Sethji.

Pushpa takes Neelima to her house and asks her to bring the note. She says about many people calling Bapodhara as Sethji and that Bapodhara is the only one who's capable of giving 10000 every month in the whole chawl. She says that they must investigate themselves before Rameh wakes up from coma. Pushpa directly goes to Bpaodhara and confronts him about the note but Bapodhara feigns ignorance. Bapodhara understands that Pushpa is suspecting him and plans to do something. Nanavati learns about Aryan's condition from Saran. Saran suspects that it's bullying and they both decide to directly get the truth from Aryan.

Pushpa and others are taking care of ill Rashi when Sonal comes there. She finds MAssi throwing tantrums to take medicine despite Deepti pleading her too. Sonal takes the medicine from Deepti saying that she will try. She forwards it to Maasi who pushes it off. She continues forwarding but she keeps pushing. At a point Sonal holds he rhand and lashes out at her for her tantrums. A scared Massit akes the tablet while Pushpa appreciates her.

Precap : Aryan's father will demand to give fair punishment to Aryan's culprit too just like they did with Aryan. He will demand to rusticate Rashi from school while Pushpa will stand worried. She will confront Rashi about the same but Rashi will say that it all happened only because Aryan got readmitted in the school and doesn't repent for her actions.
The episode starts with Pushpa coming to talk to Mahendra. He expresses his concern over Maasi staying at Pushpa's house and calls it strange. Pushpa says she too felt the same but also says that it's mainly because of Maasi's hatred for Sonal. She says that she keeps complaining about Sonal and plans to do something about it. She gets an order of 150 paav Baajis for dinner. She says that she would not take it but agrees on their face.

Bapodhara is about to leave from Surat when his brother's wife asks him to stay for few more days with her and Sunny in the next time when he comes. He takes his leave. Manish comes to meet Kunjbala Maasi when Pushpa tries speaking with Sonal. He gives them Prasad from temple and she calls Pushpa. She says about her food and Pushpa says its getting ready. Rashi takes her leave to school and before leaving she write well wishers note in her bandage. She says that it's youngsters way of wishing a speedy recovery. Kunjbala praises Pushpa's upbringing and says Manish that he found a good in laws for Deepti. She says that she's so used to live alone that being with so many is weird but gives a good feeling. Maasi still complaints about the size of the house as Deepti had to stay in kitchen.
Click to read