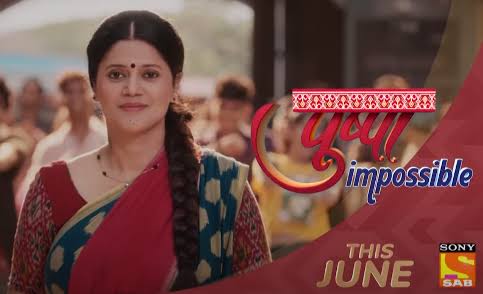 Pushpa Impossible 24th November 2022 Written Update on TellyExpress.com
The episode starts with Deepti bringing tea for Pushpa. Pushpa haves it and spots it out immediately calling it badly. She insults Deepti for nit even knowing to make a tea better. Maasi scolds Pushpa for scolding Deepti for such a small thing that too in front of her. She says that she is new and will soon learn to do things. She asks her to be patient. Pushpa says that it's the same for her when it comes to her daughter in law. She says that Sonal takes so good care of her and still she don't leave a chance to taunt her. Maasi asks her to not speak between her and her daughter in law.
Pushpa asks whether she has the right to intrude between her and daughter in law. She asks what wrong did Sonal do that she hates her so much. She says that she calls her 30 times a day asking about her health. She asks why don't she see the good in her. Deepti says Sonal got teary eyed when she called her daughter. Pushpa gives example of Kaku who kept herself updated with time. She asks her to do the same. She says that she's doing the same with Deepti as Deepti is really a very big luck for their family. She asks her to consider about it and leaves. Deepti hugs Pushpa while Maasi gets into thinking.
Pushpa asks Rashi to end the matter apologizing Aryan but she's not ready to do so. Ashwin gets angry at get but she doesn't listen. She instead blames Pushpa for bringing back Aryan to school and forcing her to do so. Pushpa warns her to not blame her for in humans act. Rashi still refuses to budge. At night, Suddenly Maasi demands to go to Sonal's House as she wants to stay there. Everyone says it's 3 am but she wants to leave immediately. Pushpa understands that she has a change of heart and urges Deepti to make immediately her stuffs. Sonal and Manish gets surprised seeing door bell ringing at that door and comes out to check. She gets shocked seeing Pushpa with Maasi, Deepti and Ashwin.
Next day morning, Sonal and Manish were surprised seeing a calm Maasi who didn't throw any tantrums. She calls Manish and they both go to her. She says she wants to do Mannat in her kuldevi temple and wants to go her hometown. She makes Sonal give her medicine and says she would leave that day. She also asks Sonal to make food for her with hand grounded floor. Sonal says it's already ready. They both call Pushpa and share the good news with her. Pushpa asks her not to put evil eyes on herself. They say about Maasi leaving and Pushpa says that they will visit her.
Ashwin and Deepti spends some romantic moment while getting ready. Sonal gets excuse to get ready too. Bapodhara thinks Pushpa's words and wonder if she really know the truth or just checking him. He decides to get the letter from Neelima House before it gets too late.
Precap : Bapodhara will get Inspector call who will call Prarthana to be eye witness as Chirag created problems for Mr. Bharadwaj. Bapodhara will get angry hearing it. Pushpa will also gets the call to bring Chirag to Police Station.
Click to read