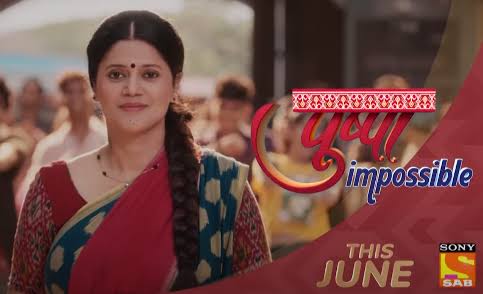 Pushpa Impossible 5th August 2022 Written Update on TellyExpress.com
The episode starts with the Prarthana praying for Pushpa's success and Golu joins her. The officer lashes out at Ashwin for trying to bribe hin and wants to complaint against him. Ashwin pleads him not to and says that he's not the one who bribed him. However the officer doesn't listen to him and called the Mrs. Roy.
In court, Bapodhara Lawyer wants to take Pushpa's statement and calls her to witness box. He brings two stools and Pushpa recalls it to be the ones which she got Bapodhara for using his stool for firewood. He asks does she remember the chair and Pushpa says yes. She recalls the incident where she was forced to break Bapodhara's stool for firewood to complete an order as gas supply was cut. He proves that Pushpa lighted firewood in Chawl that too using Bapodhara's properties and blames hey for misuse of his things. He doesn't give her chance to speak and sends her from witness box.
The officer complaints Mrs. Roy about his employee bribing him and Mrs. Roy apologizes him. She says that they are not involved in it as it was Ashwin's own deed. She promises officer to punish Ashwin who threatens her to shut down her company. Bapodhara's lawyer calls everyone to witness box and makes them say state against Pushpa. He finally calls Chirag and makes him confess that it's true that his mother is using Chawl for commercial purposes. He also accuses Chirag for stealing and Chirag says he did it only for fun. The lawyer still convinces him against it and doesn't let him speak too. Bapodhara puts up an emotional act in front of judge as per his Lawyer's saying. Ashwin comes to his office where Pramod mocks him revealing that he was the one involved in the incident.
Aamir asks Judge to play another video where Bapodhara speaks about agreement. Judge plays the video and confirms that Bapodhara have an argument. He forces Bapodhara to bring the agreement papers to him. Pushpa asks Aamir Bhai that why did he mention about agreement papers as she told Bapodhara that she would not use it against him in court.
Aamir bhai says he didn't mention about agreement but just asked him to see the video. He says he has took the pictures of the agreement before she returned. Deepti assures they everything will be fine but Pushpa is unsure. Mrs. Roy lashes out at Ashwin and swears to punish both him and Deepti who's his senior. Judge checks the papers and finds bo clause mentioned about Pushpa's business shocking everyone. Bapodhara recalls the lawyer removing the page from the agreement papers before presenting in court.
Precap : judge will be about to give statement in favour of Bapodhara.
Click to read