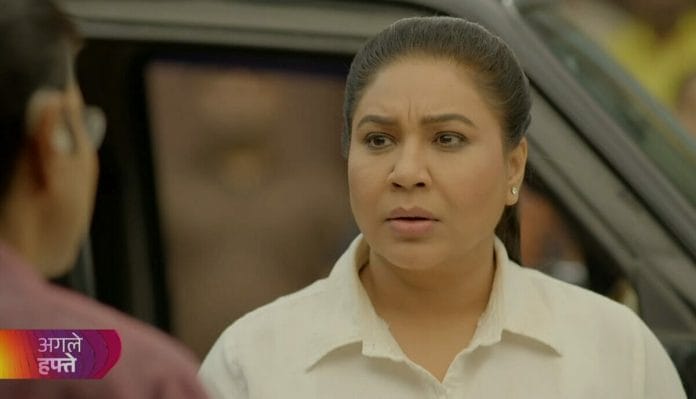 Pushpa Impossible Spoilers, Upcoming Story, Latest Gossip , Future Story, Latest News and Upcoming Twist on tellyexpress.com

Sab Tv popular show Pushpa currently focuses on Bapodhara's truth along with Dileep's comeback in Pushpa's life.
Previously we have seen that, Pushpa shared with Deepti about Dileep getting arrested due to Hyderabad bridge collapse case and dying in prison. Deepti consoled her. DCP learnt from Jogi that Dharam left to Dubai using fake passport and she wondered if he's the one who she was searching. She enquired him about it but Dharam lied that he had no connections with Jogi.
Pushpa's hand got paralyzed temporarily as she got electrocuted. DCP checked the trash can and found family tree paper crushed in it. She got a lead. DCP wondered about Dharam's connection with Jogi and Chirag's family. Chirag sketched Dharam's picture upon Jogi's saying. He got surprised seeing it resembling his father's face and says the same to DCP.
DCP got to know about many resemblances between Dileep and Dharam and got suspicious. DCP visited Pushpa to enquire about Dileep and found his picture. She got to know that he was involved in bridge collapse and her suspicion turned stronger. Bapodhara visited Mansi for the deal and Mansi demanded him to convince Sunny.
In the future episodes we will witness, DCP will enquire Bapodhara about Dileep Patel. Bapodhara will call him a dangerous person and will complaint a lot about him. Dharam and Pushpa will be scared as their past will come back to haunt them.
Will Bapodhara gets caught? Will redevelopment takes place? Will Pushpa learn that Dileep is Dharam?
All these questions will be answered in the upcoming episodes.
Stay tuned for more updates.