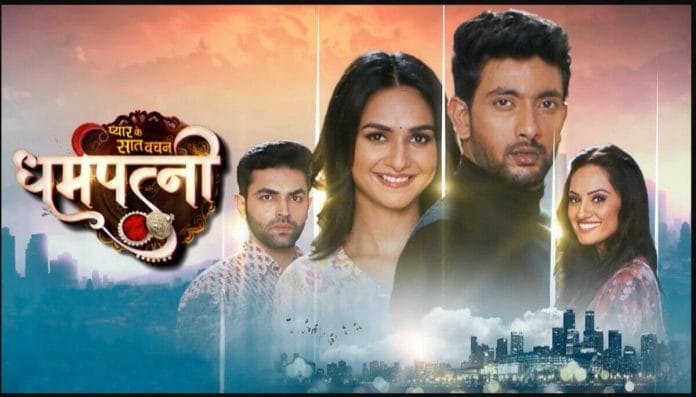 Pyar Ke Saath Vachan Dharampatnii 12th January 2023 Written Update on TellyExpress.com
In today's episode, Malhar comes to meet Pratiksha. Pratiksha asks him to tell her truly what happened that day. Malhar acts clueless. He asks Pratiksha to go to the meeting room with him. Pratiksha asks him to reveal the truth there only. Malhar holds her hand and takes her to the meeting room. Ravi drives car and recalls his last date with Keerti after he proposed her for marriage. Keerti told him that she feared to loose him. Ravi assured her saying that their connection was strong that even God could not separate them. Then the duo ate pizza and spent quality time with each other.
Ravi tells that he misses Keerti and asks her to come back in his life. In the meeting room, Pratiksha again asks Malhar about that night. Malhar says that nothing happened that night. Pratiksha asks him how he knew about the accident when he was not present at the spot. Malhar says that he was waiting for Pratiksha and people were talking about the accident. Pratiksha then asks him why did he sit on back seat instead of passenger seat during the naka checking. Malhar looses his calm and shouts at Pratiksha for doubting him. He says that Pratiksha is deliberately trying to put all the blames on him. He by mistake mentions about Thakur and Raghu. When Pratiksha asks him about them he gives excuses.
Malhar thinks that Pratiksha is very sharp and he should not mess with her at this stage. He tells her that he is handling the case from now and he won't let anything happen to his would be dharam patni. Pratiksha looks unaffected. Malhar then takes Pratiksha's hand and kisses on it. Pratiksha gets distributed. At dining table Ravi's parents worry for Ravi. Ravi comes home and goes straight to his room. Kavya tells Ravi's parents that she will go and make Ravi have food in his room.
Ravi shuts all the windows of his room, makes it dark and asks Keerti to come. He recalls that last time when Keerti came he was holding her dupatta in his hand. He opens the cupboard, tries to find the dupatta but fails. He cries and says that like Keerti her dupatta is also playing hide and seek with him. He cries and keeps calling Keerti. He mentions about Keerti's favourite pizza and says that he will eat the whole pizza alone if Keerti does not show up. Someone opens the door. Ravi thinks it Keerti but gets disappointed seeing Kavya with the food tray.
Kavya comes and sits beside him. Ravi recalls Keerti's last words that she can't share Ravi with anyone and doesn't want any third wheel between them. Kavya hugs Ravi. She tries to pacify him saying that Keerti didn't go anywhere, both Ravi and Keerti live in eachother's hearts. She tries to feed Ravi saying that Keerti won't like if Ravi doesn't eat. Ravi says that it's Keerti's duty to feed him, she should take care of him, stay with him as his dharam patni. He cries and says that Keerti didn't keep his promise. Ravi's parents and Keerti, Kavya's father come there. They feel sad seeing Ravi's condition. Ravi blames the destiny and complains about God for snatching Keerti from him. He cries his heart out and says that he hates God. Kavya cries seeing Ravi. The episode ends.
Precap – Pratik tells Pratiksha that Malhar is an inspector now he will not let anything happen to Pratiksha. Thakur shows a video to Malhar and blackmails him. Gulshan interrogate Pratiksha in court. He says that Pratiksha had no formal or informal bond with Keerti then how her earring reached the accident spot. Pratiksha says that they met on Sangeet day so her earring might left. Gulshan says that Pratiksha is lying and calls herself a cold blooded murderer.
Click to read