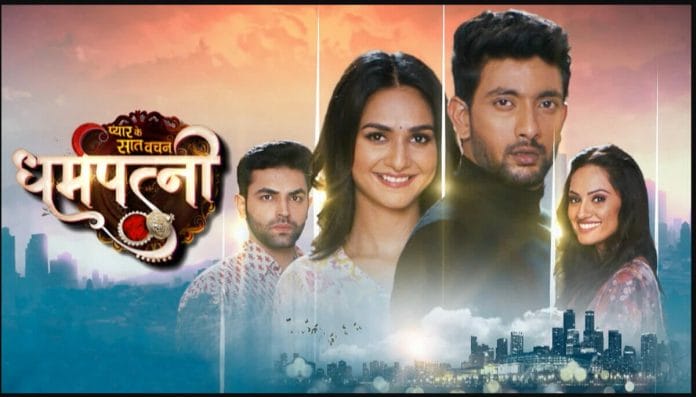 Pyar Ke Saath Vachan Dharampatnii 17th January 2023 Written Update on TellyExpress.com
In today's episode, Pratik questions Malhar for whatever he did in court. Malhar says that he had no other choice. Pratik asks him what's in his head. Hansa asks Pratik to ask the same question to Pratiksha. Pratik asks Hansa to question Malhar for taking the side of their opponents. Malhar says that he did everything for Pratiksha's sake only. Pratik gets a call and informs Hansa that he has contacted a detective and is certain about winning the court case. Malhar gets worried.
Kavya asks Ravi to talk. Kavya tells Ravi about her new year resolutions and asks Ravi about his. Ravi says it's revenge on Keerti's murderer that he won't spare Pratiksha till his last breath. He gets into fight with a biker and beats him badly. Kavya pacifies him. Ravi and Kavya talk about Keerti. Ravi says how much he misses Keerti while Kavya praises her late sister. Kavya suggests him to recall his and Keerti's happy moments. Ravi says that he won't do that until he takes revenge on Keerti's murderer. Pratik tells Hansa that he will protect Pratiksha. Hansa calls Pratiksha murderer indirectly.
Pratik lashes out at her. Hansa says that it's good that Pratiksha's parents died before seeing all these. Parul, Kinjal raises objection. Pratik tells Hansa that he will use all his contacts but won't let anything happen to Pratiksha. Malhar comes home and tells Hansa that he is worried for Pratiksha. Pratik asks him to not show his false concern. He toungelashes Malhar and raises his hand. Malhar decides to not say a word against Pratik. Pratik questions him why he asked Pratiksha to drive the car when he himself can drive well. He says that he will check the CCTV footage and punish the culprit. Malhar gets nervous. Ravi's dad asks him to live without Keerti's memories.
Ravi says that he will live with those memories only but nothing can replace Keerti's place in his life. Ravi informs his family that he will make a monument for Keerti so that people can never forget her. He calls it a symbol of his love. Ravi leaves. Dolly calls him mad indirectly. Others scold her. She gets offended. Pratiksha's sisters get insulted in the market by neighbourhood ladies. Kavya comes there riding on her car and throws mud on Kinjal and Parul.
Later she throws water on them and calls them sisters of murderer. She announces infront of the crowd that their sister has killed her sister and calls them dangerous. She says that Pratiksha will get punished for her deeds. Parul says that nothing will happen as her sister is innocent. She says that there is no proof against Pratiksha and God will give her justice. She says that their truthfulness will give them justice. Kavya goes to slap Parul. A guy comes and holds her hand.
Ravi's mother worries for Ravi and tells her husband that they have to stop Ravi from making Keerti's monument. Ravi's grandmother comes there and reminds Ravi's father about the fact that Ravi always wanted to do buisness of car and automobiles. She asks her son to invest in Ravi's buisness so that Ravi can concentrate in it and forget about Keerti eventually. Ravi again meets Keerti in his imagination. The episode ends.
Click to read