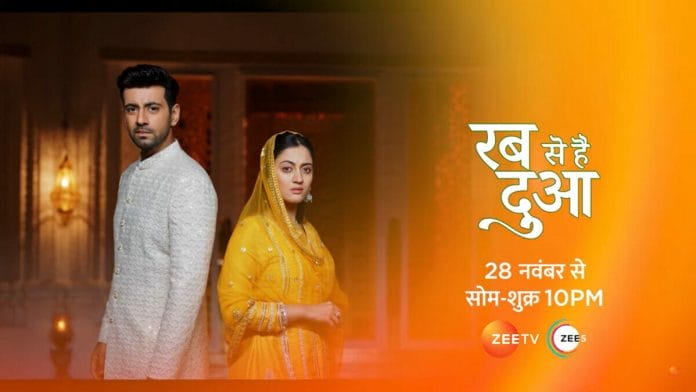 Rabb Se Hai Dua 23rd January 2023 Written Update on TellyExpress.com
Episode starts with Dua getting a dupatta and concludes that it belongs to Gulnaaz via it's smell. She recalls Ruhaan buying the perfume for his mother and gets suspicious about the white dupatta. She then remembers Hina's words that the spirit of Gazal's mother is haunting her. She thinks that it is all Gulnaaz's plan in order to bring out the truth in front of Gazal. She then rushes inside the kitchen and ask the maid for the glass which she picked from Hina's room. She recalls how she was sleeping all the time, even when everyone tried to wake her up.
Here, Dua tries to find the glass while the maid gets confused by her behavior. She then gives the glass which she picked from Hina's room to the latter. She questions Dua about the matter while she checks the glass and sees the medicine residues mixed inside the water. She remembers how she drank the water and had fallen asleep.
Dua geta furious and determines to confront Gulnaaz. Meanwhile, Haider and Ruhaan gets inside the house after distributing blankets to the needy people. They smells the sweet and goes inside the kitchen. They sees Hina cooking some sweet dish and ask her to take rest as she isn't well.
Elsewhere, Hina says that her health gets better when she cooks. She smiles showing her happiness as well as relief after telling the truth to Gazal. Meanwhile, Ruhaan decides to help the latter and ask Haider also do to the same. They starts cooking along with Hina and enjoys their quality time.
Gazal finds about Haider helping Hina and goes inside the kitchen. Ruhaan and Hina praises Gazal for her nature while Haider also states that she is really a strong girl. The latter gets happy hearing his compliment and then become furious hearing Hina's words. She determines to take her revenge from Hina for the death of her mother.
Ahead, Gulnaaz praises herself for her master plan and says that Gazal is one step ahead of her. At that time Dua comes there and confronts the latter about the truth. Gulnaaz gets scared seeing the glass and dupatta while Dua rebukes her for stooping so low. Gulnaaz then warns her that if she reveals her truth then Haider will also find about the secret.
Hina thinks about Dua and ask Haider to keep her happy always. She shows her concern towards the latter while he recalls the words of Gulnaaz and gets upset with Dua. The latter tries to talk to him but he ignores her. She ask about the matter while he shows cold shoulder to her. He mocks her that he shouldn't have trusted her for his mother.
Further, Dua tries to convince Haider but gets unsuccessful. Gulnaaz mocks her while the latter takes a stand for herself and gives a warning to Gulnaaz. Dua reminds her about the words of Raahat and proclaims that if he finds about the truth, then he will divorce her. Meanwhile, Gazal proclaims to use Ruhaan in order to get Haider and also smirks thinking about Haider's decision when he will find about the truth.
The episode ends.
Also Check: